Hotel
Interior
Design
by
Ms
Éva
Ferenczi
and
Ms
Zsuzsanna
Istók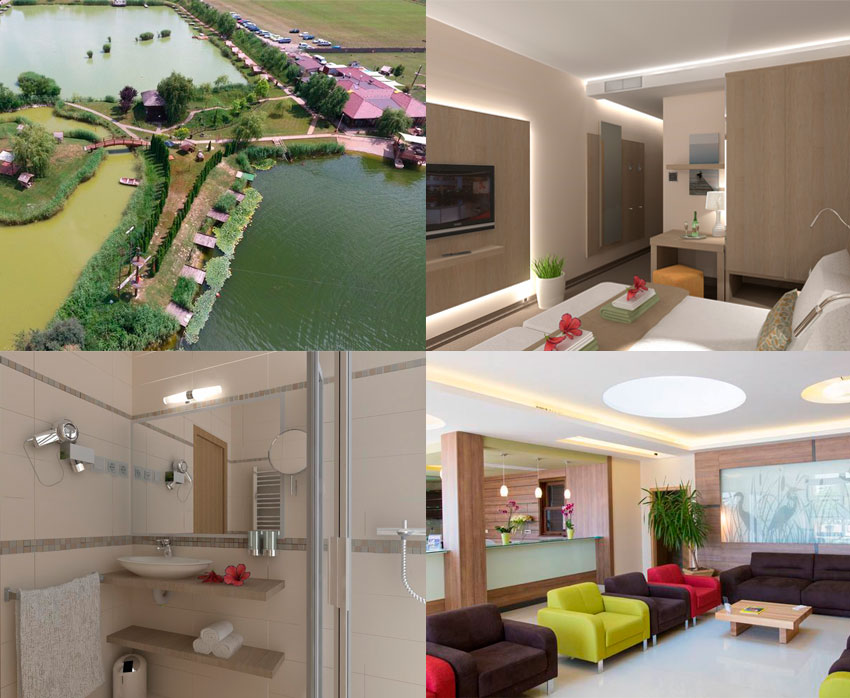 Interior designers dreamed up how to turn Nádas Guesthouse to Nádas Lake Park Hotel:
We were asked to design the new wing of Nádas Guesthouse and extension of whole complex. The total size of the project was 1,086 sqm. We had to create the interior design for the reception area, hallways, meeting rooms, guest rooms. Individual requests, needs and places also required to create unique bespoke furniture design.
Before any planning we had visited the site and the surrounding environment. We mapped the local flora, fauna and avifauna. After that reflecting surface of the lake, green of the nature and reeds inspired the mood of the interior spaces. The surrounding nature sneaked into the hotel with its own colours, peculiar motifs and unique materials.
The majority of the guest are made of family reunions and weddings. In the hotel interior design we liked to create the most adequate background for the venue of these family events. To reach this effect we placed the huge hanging lights reminding to wedding rings, we formed circle lights on suspended ceiling as well and placed wedding pictures on walls.
The technical documentation, visual plans were created by ARCHLine.XP Design Software, this way the client and building constructors could have insight during the implementation.
The style and the atmosphere reflects elegant but moderate spaces, it shows timeless design with colours of the nature and the rustic appearance is wrapped in modern charm.
Contact details:
Ms Éva Ferenczi (Studio Trend Lakberendezés)
www.studiotrend.hu
Istók Zsuzsanna (Istók Zsuzsa Interieur)
www.profilakberendezo.hu