Sauna-club
and
home-restaurant
-
Designer:
Ms
Aniko
Demeter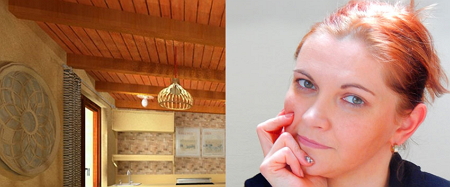 Design a sauna-club and home-restaurant in safari style: :
"I was so delighted to get this deal, I had to dream a sauna club and home restaurant from an existing building. Originally the house was built in a classic style, we wouldn't like to make any changes on the floor and ceiling. The fireplace in the living room was also considered to remain. This was starting point, then we had to create a place for relaxation, social gatherings. The remaining wooden interior design elements gave the inspiration to form safari feeling.
It was obvious that the living room area will be turned to restaurant, but we needed to find the place for restroom and sauna – jacuzzi section. The previous was placed in a former room, latter in the old kitchen and winter garden.
I tried to fuse the kitchen in the surrounding environment and make it the part of the social space so all the necessary functions could be found there. Joining the countertop and the dining table, it is now possible to prepare meals together. This setup brought another advantage, more space is left for a lounge area.
I am thankful to my client for being part of this project, apart from designing the apartment, it was revitalizing journey.
I used ARCHline.XP to design this project."
Contact details:
Ms Aniko Demeter - Fortuna Deor
interior designer
web.:www.fortunadekor.hu