The
transformation
of
a
hill
house
–
by
Designer
Szandra
Markovics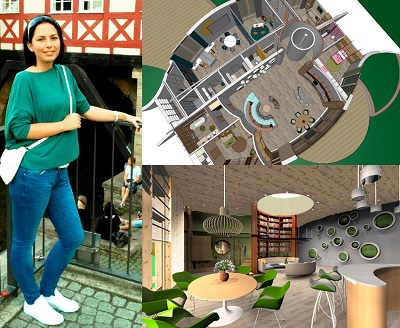 Ms Szandra Markovics, who graduated from Stylehouse Creative Art School, talks about her Interior Design Thesis:
"I graduated in June 2016 from Stylehouse Creative Art School majoring in Interior Design. I used ARCHLine.XP for my graduation project. My task was complicated and included the renovation of a 300m2 hill house, where beside the residential area, a business area needed to be established as well with its whole corporate identity (business card, logo, slogan, design). As a part of my task I had to place designer furniture from a given list to a chosen part of the house which defined the style depending whether I placed it in a residential or in the business area.
I need to face many challenges during the project: the compact shape of the hill house (arched walls and slabs) and the given features (the changes in interior height, the use of skylights), the different style of the two areas, the definitive role of the designer furniture, the establishment of the corporate identity and the focus on the needs of the given family model.
The owner was a married couple around 35-45; the wife is an interior designer, who guides her business from the interior designer studio at the back of the house. The husband is an entrepreneur too and they have a 13-year old daughter. ."


The creation of spaces was mainly influenced by the social life of the family. It was important to them to have big spaces, so the hall, the kitchen, the dining room and the living room was created in the same area, establishing the social zone. The residential area is modern, organic, which is unified by the colours, materials, shapes and the same flooring. The hues of brown and green are dominant. As the use of the big inner height and the skylight an arched bookshelf was created with a gallery, which became a dominant element of the living room, satisfying the need for book storage.
The social zone is vitalized by the green wall placed on the main wall, which was created in different rings. These rings come back at different parts of the house. The business area is on the northern side of the house. Its style is Scandinavian, the main colours and shapes of the spaces were given by Pinsofa1 designer furniture designed by Demeter Fogarasi. The colours are the different hues of yellows and blues, as well as white and grey. The ring shapes are back here too. The false ceiling, the lamps hanging from it, the rugs in the office and the decorative elements of the walls show these as well.
Contact details:
Ms Szandra Markovics
Email:
Phone: +36-20-392-77-88