IFC export certified by buildingSMART (from
04.04.2016
)

Export of Industry Foundation Classes (IFC) data from ARCHLine.XP 2016 has achieved the certification by the buildingSMART, formerly the International Alliance for Interoperability (IAI).
IFC is the international standard exchange format developed and managed by buildingSMART International and not controlled by any single software vendor.
IFC interfaces to export IFC files are fully integrated into ARCHLine.XP 2016.
The certified IFC Export from ARCHLine.XP 2016 will expand the ability of architects and designers to create, manage and exchange BIM models between various software programs.
With this certification ARCHLine.XP 2016 become an integrated tool for AEC supply chain.
Find here the List of Certified Software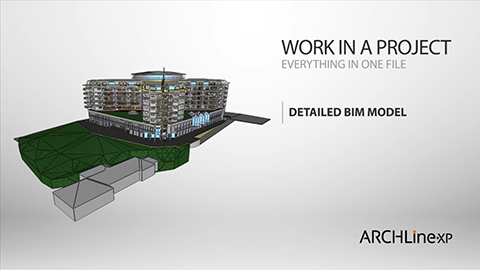 High Performance market leading software features
CadLine Ltd. developed ARCHLine.XP perfectly for IFC standards,
using the most advanced technologies to offer one of the most complete
and powerful BIM architectural design software on the market
ARCHLine.XP 2016 is a single building information modeling (BIM)
software application for building design with terrain modelling and interior design.
The software has integrated with Gear Energia the calculation tool to determine the required energy performance and verifications.
ARCHLine.XP supports quantity take-off and cost estimating features with automatic sorting in Excel to building, story and room.
ARCHLine.XP 2016 has IFC support for CV2.0-Architecture Export. IFC interfaces to export IFC files are fully integrated into ARCHLine.XP 2016.
ARCHLine.XP is BIM compatible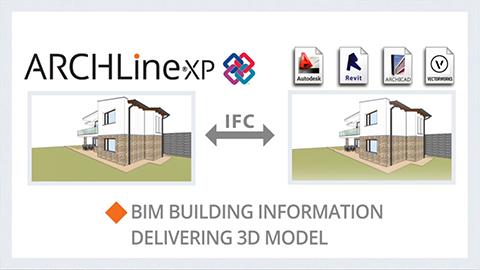 What is BIM?
Overview
BIM is actually a de facto standard design process to create building model that is essentially provides robust and rich data source of information.
This information is used internally by the CAD software and exported to the project team to add computations like energy analysis, calculating structural loads, lighting analysis or heating and cooling calculations, etc.
Coordinated and computable building model
You work in one model with many views as floor plan, sections, and elevations. Your BIM project are fully coordinated and don't require any manual updates to keep it synchronized.
Components that makes BIM
3D doesn't mean having automatically BIM. Computations performed by the project team are using the 3D model as data source of information. The project team requires data in standard format. Shared parameters, templates, project parameters, object properties are the data sources we mean by the I in BIM.
BIM communication between the project team members
The standard BIM file format is the IFC, which contains all building information data gathered from or added to the project and this same format can be used during the whole life-span of the building.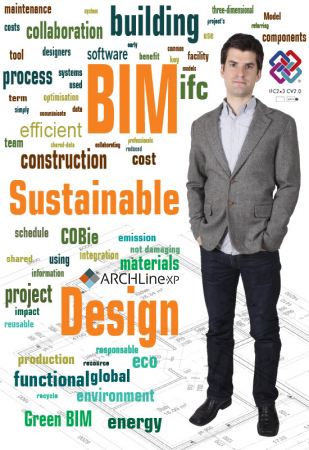 Most important features:
- Working in one model with many views (Floor plan, sections, elevations, etc.)
- Stand-alone intelligent BIM/CAD core
- 3D, section, quantity take-off is generated automatically from one single model
- Import and export: IFC, SKP, DXF, DWG, PDF, OBJ, 3DS, JPG, TIFF, BMP, PNG and GBXML
- The project documents are updated when your model changes
- Intelligent and parametric 2D and 3D object databases
- Freely definable cross-sections, part models and elevations in 2D, 3D
- Flexible zone and space management with GEAR connection
- Automatic sorting of parts lists according to building, story and room.

Working with ARCHLine.XP you can create: floor plan views, section views, elevation views, perspective views, construction details, printing layouts, schedules, Excel reports, renderings, photo inserts, animations
.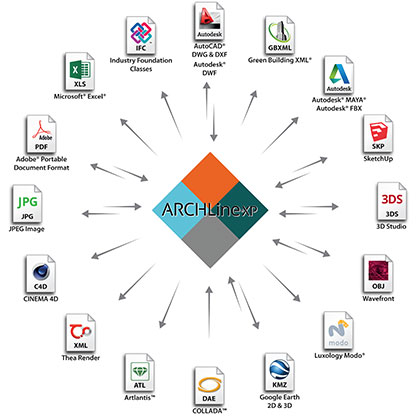 Export / Import features
Import & Export CAD Files
Frequently you have to send your project to someone who needs a CAD file. You can save your work as DWG and DXF files even if your project is a multi-storey building in one step. The geometry remains intact through the import and export operation and layers are also preserved.
Import & Export 3D models
ARCHLine.XP supports 3D file formats such as 3DS, SKP, OBJ, ATL, C4D, VRML, Indigo, and Autodesk FBX. Using this export feature you can establish a good direct connection with some of the most popular professional rendering software.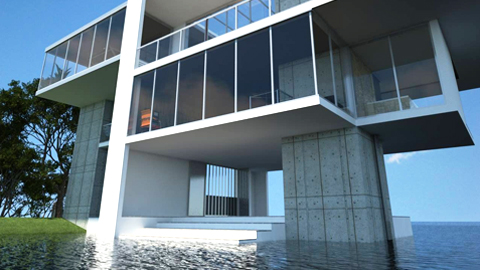 IFC Export
IFC Export - Industry Foundation Classes
The 3D model can be exported into IFC format based on the IFC2x3-TC1 version.
The IFC model export format generated by ARCHLine.XP is the way in which the 3D architectural model information can be transmitted to Structural, Quantity take-off or similar applications.