Find
commands
in
the
Toolbox
Did you know that you can find any command in the ARCHLine.XP Toolbox in less than a second? You can simply use the Search field at the top of the Toolbox; it will give you quick results and you only need to remember a tiny particle of the name of the command.
Please just follow these steps:
Click into the Search field at the top of the Toolbox.
Type a known part of the command name that you are about to find. Wait for a second and the results will automatically appear.
Hover your mouse over a command to see the name and location of that command - you can find the command at that location later at any time. In this example we can see the "Grid Auto Ceiling" command whcch can be found between the "Ceiling" tools.
Note: To reset the Toolbox to the default layout, please just press the HOME button below the Search field (it is represented by a miniature black silhouette of a house).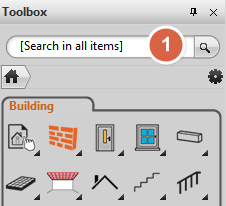 The Search field at the top of the Toolbox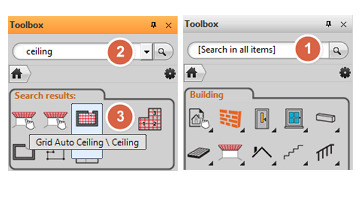 Search results in the Toolbox