Budapest - Augsburg. By teaming up, ARCHLine.XP and CADENAS, developer of BIMcatalogs.net, achieve their common goal: allowing AEC professionals to access high-quality BIM content and tools.
CADLine is a Hungary-based software company, developing CAD and BIM solutions for an audience of international AEC professionals. Its flagship product, ARCHLine.XP is targeted for architectural and interior design, with a heavy emphasis on collaboration and on the multi-disciplinary design process.
Instead of making ARCHLine.XP heavy with factory-made content or forcing customers to pay for extra object libraries, the ARCHLine.XP policy is to make the software as open to external data sources as possible. This allows our clients to access fresh, up to date, and relevant data. Integrating CADENAS' BIMcatalogs.net platform into ARCHLine.XP was a logical step in this quest for more accessible content.
Since 5 March, with the release of the ARCHLine.XP 2018 edition, BIMcatalogs.net became a free to download plugin to ARCHLine.XP, in which users can browse among a wealth of AEC data, CAD and BIM content libraries. This easy to access manufacturer content, which grows by the hour, makes designs, data processing and collaboration between co-designers much more accurate.
The BIMcatalogs.net solution powered by CADENAS redefines the entire cooperation in BIM projects between the manufacturer and the architect: the link between the product and manufacturer and the current project never gets lost. If the manufacturer data changes during a project, additional information or another LOD is needed, the BIM CAD objects are simply enriched and updated with metadata.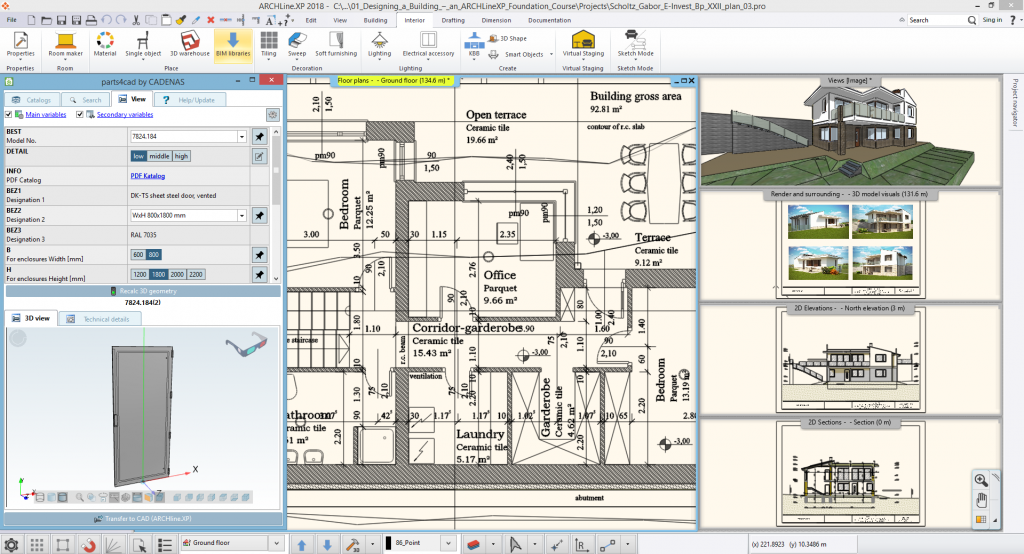 the BIMcatalogs.net component integrates into ARCHLine.XP, making the browsing of BIM data easy
With over 25 years of experience as a leading provider of 3D & 2D manufacturer catalogs, the German based software company CADENAS has adapted the proven technology of manufacturer catalogs to the BIM and architecture sector. The multi BIM CAD data model from CADENAS makes it possible to serve common BIM CAD systems, now including ARCHLine.XP, with high-quality information and relevant metadata from one source.
"We are happy to support CADLine with our extensive CAD models library, our many years of experience as well as our innovative technology, and therefore help pushing the user experience for ARCHLine.XP customers to the next level." Jürgen Heimbach, CEO of CADENAS.
"Collaborating with CADENAS means that ARCHLine.XP becomes an even more competitive BIM software product. With BIMcatalogs.net, our nearly 10.000 customers will now have an indispensable information source to work with. And this is what BIM is all about." Zoltan Toth, CEO of CADLine.
Visit the dedicated "Gateway to BIM" site to learn more on CADLine's BIM efforts.