This article provides solutions for those, who have problems downloading objects from 3D Warehouse. A problem may occur for those, who want to search for objects using 3D Warehouse integrated into ARCHLine.XP 2017 and for those who are running ARCHLine.XP 2018 under Windows 7 and want to start a download from the integrated 3D Warehouse. The two problems have different reasons and we would like to ask you to read the appropriate parts carefully
1. ARCHLine.XP 2017 users:
The following post was published on the official SketchUp forum: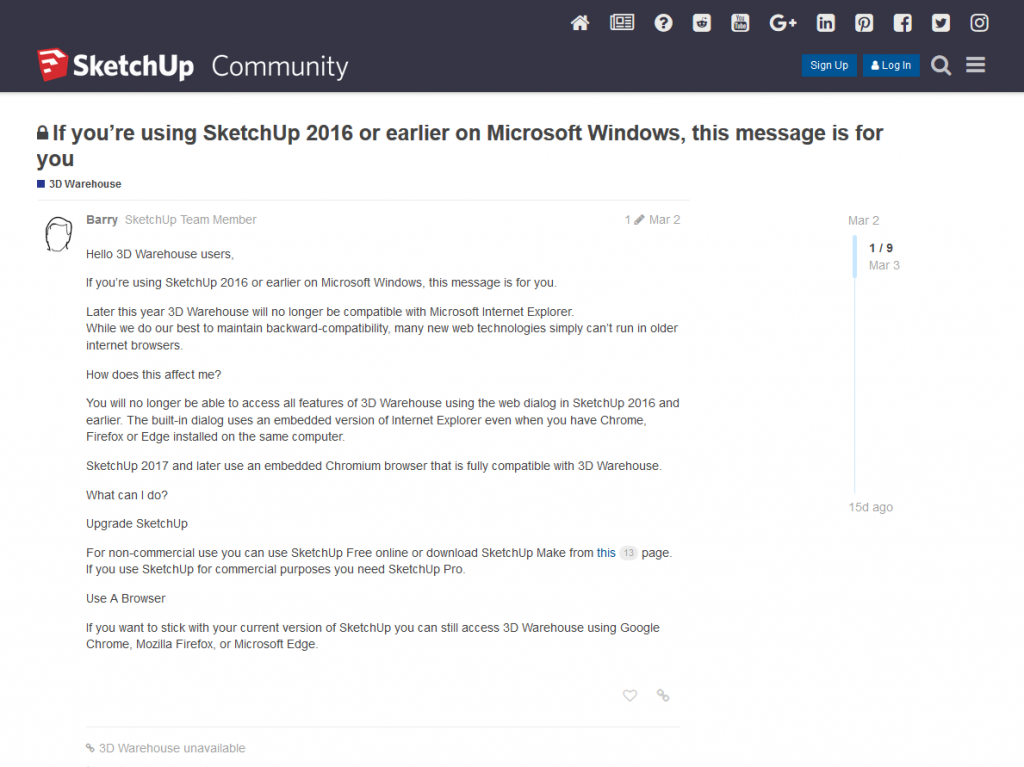 Source: https://forums.sketchup.com/t/if-you-re-using-sketchup-2016-or-earlier-on-microsoft-windows-this-message-is-for-you/63268
Due to the modifications on the website of 3D Warehouse, in the integrated 3D Warehouse dialog in ARCHLine.XP 2017 no search and download can be started. As a temporary solution, we suggest to download objects through a standalone browser and import them into the program. It is important that this broweser should be either Google Chrome, Mozilla Firefox or Microsoft Edge because the other ones are not supported.
2. ARCHLine.XP 2018 users who are running Windows 7:
In the recent month the inner structure of the website of 3D Warehouse has been developed and the new ARCHLine.XP 2018 Build 509 provides a follow-up to the changes. Unfortunately, the Windows 7 operating system has split from the newer Windows operating systems (Win 8, Win 10), and this difference can cause crash in the program while downloading 3D Warehouse elements.
To prevent this, please download and run the following installer: www.archline.hu/public/downloads/eng/3dwarehouse/ARCHline.XP_3DWarehouse_fix.exe
Its purpose is to refresh the NET Framework component under Win 7. After installing, the 3D Warehouse download problem will be solved at the next start of ARCHLine.XP 2018. Build 509.