From ARCHLine.XP 2016, the enhanced Sprite definition function, as a kind of object definition, is available in Manufacture menu - New object - Sprite definition. The process of sprite definition is the following.
1. Loading a previously saved raster image by Browse button. To make the image selection easier, you have access to http://skalgubbar.se by clicking Link collection, from where you can download a lot of good quality images.
.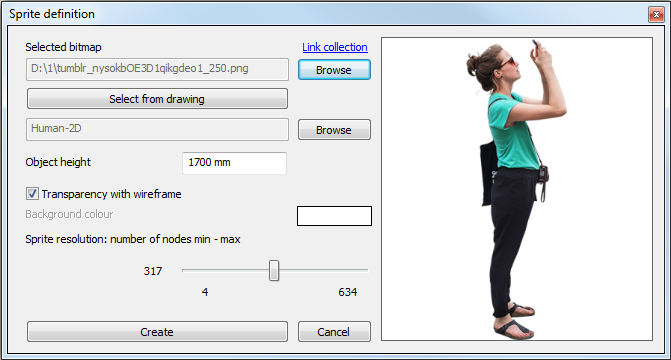 Alternatively you can select a previously imported raster image on your drawing by Select from drawing.
2. Selection of the 2D symbol of the defined sprite object by Browse button. You can select from the predefined group elements in the design center. By default you can use the Human-2D symbol.
3. Modifying the object height if the default value is not convenient.
4. Transparency with wireframe. With this option you can make transparent those areas of the image which have the selected background colour. Background colour is defined by a mouse click on the image.
5. The program automatically cuts out the areas defined by the background colour and makes those parts transparent in 3D. The precision of cutout is defined by Sprite resolution. This resolution is adjustable by a slider. The higher resolution number you define by the slider, the higher precision of the cutout you get.
6. Click Create button to save your sprite object with its name, category and producer information into the Design center.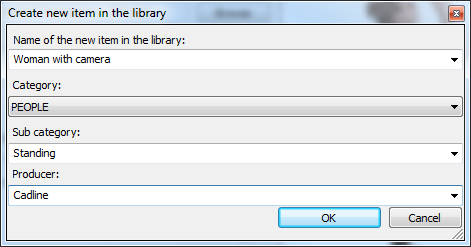 The newly created object can be placed in your model and you can render it in the same view, independently from perspective setting of the whole 3D model: