Graphics card specifics
ARCHLine.XP puts your computer to hard work. If you are experiencing issues, we need to know if the problem is caused by your hardware, and for that, you need to tell us your graphics card specs.
Step 1 - get the info straight from ARCHLine.XP
In order to retrieve info on your graphics card, open up ARCHLine.XP, go to HELP, and click ABOUT. In the upcoming window you need to click SYSTEM INFORMATION. This opens up a new window, which contains the most important data for us:
- video card type
- accessible video memory
- driver version
- driver release date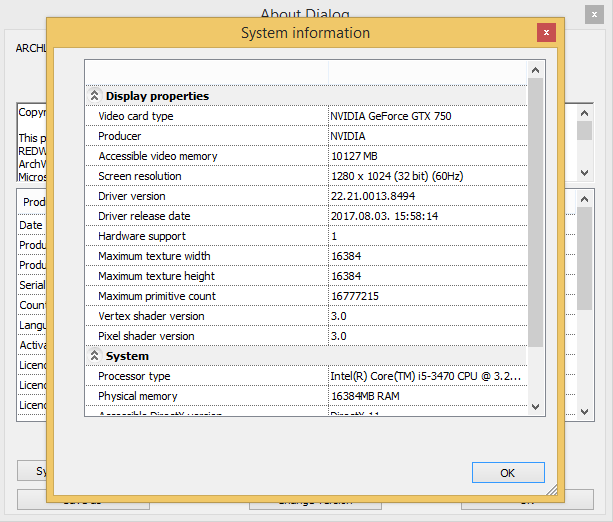 Please note that if you have dual graphics cards, ARCHLine.XP will only show one of them in this window. That's why it is worth looking a little deeper for the accurate info.
Step 2 - look into your system specifics
- go to your Start menu
- type dxdiag into the search bar, and hit enter
- this opens up your DirectX Diagnostic Tool. Before it actually opens, it might ask for your permission to do some checks, hit OK
- the DirectX Diagnostic Tool is now open. You have to open up your graphics specifics, for which you need to open the Display tab. If you have multiple displays connected to your computer, you might have more Display tabs. Open up the first one.
- once the Display tab opened, the Device and Drivers sections will hold the info what you are looking for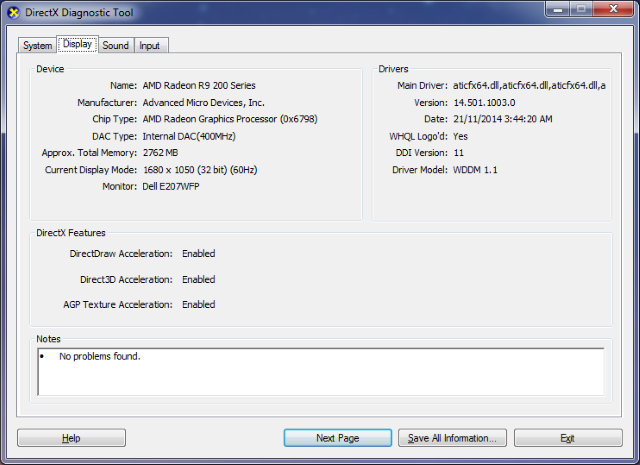 Step 3 - get the info to us
Compare the technical specifications you saw in Step 1 with the info you found in Step 2. If they are identical, this is the info you need to get to us. If they are different, send us BOTH via the usual support channels. This allows us have the full picture of your computer's abilities, and this helps us tremendously when it comes to resolving issues.