ARCHLine.XP the BIM Application Tuned for Architectural Design
IFC export / import certified by buildingSMART (
Export
/
Import
), Direct Import of Revit RFA, RVT files
Export and Import of Industry Foundation Classes (IFC) data from ARCHLine.XP has achieved the certification by the buildingSMART, formerly the International Alliance for Interoperability (IAI).
IFC is the international standard exchange format developed and managed by buildingSMART International and not controlled by any single software vendor.
IFC interfaces to export and import IFC files are fully integrated into ARCHLine.XP 2017.
The certified IFC Export and Import from ARCHLine.XP 2017 will expand the ability of architects and designers to create, manage and exchange BIM models between various software programs.
With this certification ARCHLine.XP 2017 become an integrated tool for AEC supply chain.
Here you find the List of Certified Software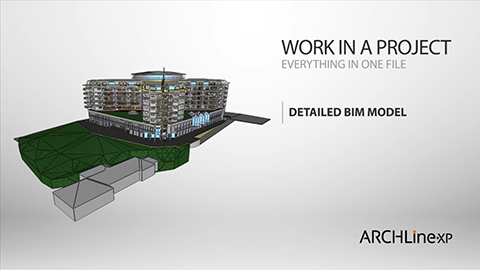 High Performance market leading software features
ARCHLine.XP is equipped with a fully integrated Open BIM interface and provides the tools to create coordinated and computable building model. You work in one model with many views as floor plan, sections, and elevations. Your BIM project are fully coordinated and don't require any manual updates to keep it synchronized.
Most important features:
- Stand-alone intelligent BIM/CAD core
- Working in one model with many views (Floor plan, sections, elevations, etc.)
- 3D, section, quantity take-off is generated automatically from one single model
- Import and export: RFA and RVT (Import), IFC, SKP, DXF, DWG, PDF, OBJ, 3DS, JPG, TIFF, BMP, PNG and GBXML
- The project documents are updated when your model changes
- Intelligent and parametric 2D and 3D object databases
- Freely definable cross-sections, part models and elevations in 2D, 3D
- Flexible zone and space management with GEAR connection
- Automatic sorting of parts lists according to building, story and room.
Working with ARCHLine.XP you can create: floor plan views, section views, elevation views, perspective views, construction details, printing layouts, schedules, Excel reports, renderings, photo inserts, animations.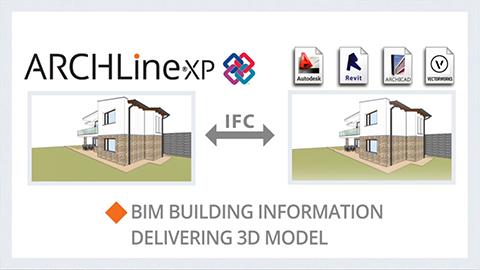 What is BIM?
Overview
BIM is actually a de facto standard design process to create building model that is essentially provides robust and rich data source of information.
This information is used internally by the CAD software and exported to the project team to add computations like energy analysis, calculating structural loads, lighting analysis or heating and cooling calculations, etc.
Coordinated and computable building model
You work in one model with many views as floor plan, sections, and elevations. Your BIM project are fully coordinated and don't require any manual updates to keep it synchronized.
Components that makes BIM
3D doesn't mean having automatically BIM. Computations performed by the project team are using the 3D model as data source of information. The project team requires data in standard format. Shared parameters, templates, project parameters, object properties are the data sources we mean by the I in BIM.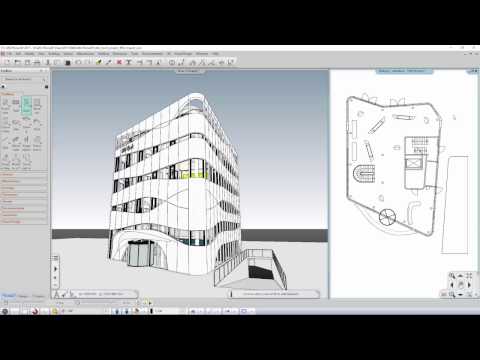 BIM tools
Direct Revit RFA, RVT import
ARCHLine.XP 2017 users can import and view of the RVT, RFA files types.
RFA (Revit Family) is the format of families of the BIM application Autodesk Revit. RFA objects carry BIM parameters about the object.
Downloadable models from manufacturers in Revit format
RFA import can be extremely useful, since almost all manufacturers who provide downloadable 'BIM' models usually only provide in Revit format. One of the most comprehensive BIM library is the Bimobjects.com.
After downloading and extracting from .ZIP file you can open the RFA file in ARCHLine.XP You can convert then the imported items into ARCHLine objects, doors, windows together with the original Revit family BIM parameters.
IFC Export / Import - Industry Foundation Classes
IFC interfaces to export and import IFC files are fully integrated into ARCHLine.XP 2017 based on the IFC2x3-TC1 version.
Architectural tools
Multi-Storey Structures
ARCHLine.XP comes with a Floor Manager application that can be used to define the level structure of the building and the heights associated with floors. It means that if you activate the floor named Ground Floor in the building structure and start placing walls, slabs, stairs, columns and furniture the elements will automatically get their base elevations and optionally their heights from the Floor Manager settings. To move or copy to another floor, you need to activate that floor and insert the elements—they will be correctly placed at the right elevation of the new current floor. This way you design your building as if you were building it in reality. It works the same way as buildings are constructed in reality. You can modify the height property of any elements if you wish to use a column or a window that needs to cross through multiple floors. The model will automatically be updated to follow the change.
Walls and openings
"How do you create walls in 3D?" This is one of the most frequently asked question we receive.
We design walls without limits either in 3D or 2D floor plan. The flexibility of wall structure allows to create complex wall styles with layers, adding any shape of cross-section, automatically connecting doors and windows to the walls including rounded windows, curved arches, etc.

Watch the video - Doors, Windows
Build 3D models from 2D drawings
Using the Wall command on DWG drawings allows you to convert lines from imported DXF/DWG drawings into 3D walls. There are also a number of techniques to be used for placing doors and window openings.
Stairs and Balustrades
ARCHLine.XP uses two stair definition methods. You can create and manipulate 3D parametric stairs with either regular or irregular shapes. Irregular or sketched stairs, are created with a step by step method providing a group of boundary curves. Balustrades are associated with stairs and freely editable with any form of handrails, and puppets.
Floors, Ceilings and Foundations
The software allows you to create regular or irregular slabs, sloping slabs, and foundations. A slab can be a single layered or multiple layered one with beams inside. The slab profiles helps to create custom made slabs, such as annular vaults, cross vaults, etc.

Watch the video - Floors
Roofs
Automatic roof definition makes it easy to define complex roofs. You only have to select external walls with enclosing rectangle to add a roof over.
Roof Tiling, Rafter and Batten, Gutter and Downspout
Roof Tiling with solid 3D tiles, displayed in 2D and 3D, quantity take-off, visuals, and complex rafter and batten structure definitions together with interactive gutter and downspout designs.
Door/Window custom design
From the basic door types to specialized ones, the door wizard enable the design of new door types as interior, entry, glass and steel doors. You can add producer and product information as well to come up with real quantity take-off later.
2D functionality - professional design tools
2D functionality helps you to produce high-quality and professional documentation
Styles
Using the styling tool in ArchLine.XP is the best way to create consistent, well-designed projects. It consists of a sequence of properties applied one after the other to set and edit the individual elements – new walls, doors, windows or any other object.
Accurate measurements
All ArchLine.XP drawing dimensions are highly precise, facilitated by the double precision format used in the software. You can choose between imperial and metric measurement.
Dimensioning
You can quickly add precise annotations to your documentation. The linear dimensioning tool enables you to place dozens of dimensions in one step for example to annotate all walls with windows and doors in one step. You can define the format, scale, precision of displayed measurements, line weight, arrow and font types and many more.
Dynamic section
You can use ARCHLine.XP interactive Dynamic Section feature to temporarily cut away parts of your design, enabling you to look inside your model. You can use Sections to create architectural section as well move and rotate the working plane.
Layers
Layers are a method of managing and controlling the visual layout of a drawing. Using layers you can group or separate the objects of the current drawing in various categories or folders, and for example display only the architectural part of your project or temporary hide tiling or electrical accessories.
Groups
A group is a collection of objects you can create in ArchLine.XP which can then be assigned different properties or placed on separate layers. The groups can then be moved or edited as one whole unit.
XREF
External references (XREF) let you embed another drawing into the one you are currently working on.
Printing
Print Layout
Print Layout document has a physical paper size that you specify when you create it.
You can insert floor plan at an exact scale, sections, model views, images and photos into one paper sheet.
You can customize your layout with your personal stamp, a north sign, notices, etc.
The work can be printed in high resolution or saved as a PDF file, ready to be emailed to the customer..
Print to scale
Printing a floor plan, a wall view with measurements or a 3D view is a simple and easy process. Choose Print and set up the physical paper size and the scale factor. And that's it!
Print to PDF
Printing from PDF provides the industry-standard solution to publish the document in that popular file format.
Print Queue
Print queue lets you collect all the printing jobs into one list and print them in one PDF file with multiple pages.
Interior design tools
The Room Maker
A single platform that integrates your interior design work into one easy to use 3D panel. Starting from any room shape you can complete it with doors, windows, finishes, lights, curtains, sockets, switches, cornices, skirting boards, pictures on wall all by using this smart design method..
Find and collect models on the 3D Warehouse
ARCHLine.XP provides direct access the world's biggest online repository of furniture the 3D Warehouse. It contains every group of furniture what is necessary for the design (e.g.: chairs, tables, kitchen-, living room-, bedroom, bathroom items, accessories). If the library doesn't contain the suitable object, you can create it with the ARCHLine.XP tools.
Soft Furnishing
Soft furnishing is at the basis of interior design. Soft furnishing tools of ARCHLine.XP add colour, texture, softness and style to the room. Without soft furnishings, the room would be hard. You can create perfectly realistic curtains just in a few steps! The roman blind wizard is a great tool to create roman blinds by simply setting up some simple parameters.
Tiling
The tiling Styles enables you to set the tiling layout to a wall or any other surface as a One-Click definition. It is easy to select a style from the library or you are free to create your own. If you would like to try another tiling style, with a single click you are able to change the whole tiling of the room, or you can simply modify the tiling styles wall by wall.

Watch the video - Tiling
Moulding
Moulding adds a sophisticated finishing touch to any room. ARCHLine.XP has effective one-click or path definition tools you need which can be utilized for any moulding you take on aim to design.
Lighting
Lighting is a key element of interior design. It sets the mood for each room. The use of natural or artificial lighting can have a major impact on the overall look of a room. In ARCHLine.XP you can study the effects of artificial lights in real-time 3D.

Watch the video - Lighting
Furniture design
Kitchen design
ARCHLine.XP is has been designed as a professional multipurpose interior design software, and it is not a specifically kitchen design application. However it is capable of creating wardrobes, drawers, cabinets and other standard and bespoken furniture. The kitchen design wizard helps you to configure the desired furniture in minutes and to save it into the object library.
Loft
The loft tool allows you to create complex models by simply defining a 3D path and several cross-sections along that path. The software will morph these cross sections into each other creating a 3D object.
Smart Object Parts
Smart Object Parts is an easy to use tool that gives you an efficient interface for creating complex furniture parts such as legs, chair backs, seats, and so on. You can create elaborate furniture even without having experience in traditional 3D modelling!
Furniture Assembler
Using the components created by the Loft tool and the Smart Object Parts, the Furniture Assembler can merge them together and produce various types of upholstered furniture. The result is modular, so you can freely exchange parts of the final piece of furniture and replace fabrics with one click.

Watch the video - Modelling Wenga Amboise Chair

Watch the video - Modelling Wenga Brionne sofa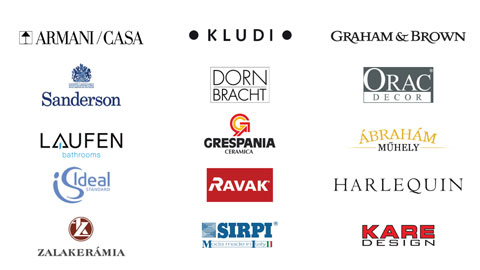 Styles and Finishes
Real Textures, Colours and Fabrics
Whatever your design style, you can create beautiful textured walls, floors, curtains and other elements. As a result the room will take on a whole new dimension.
Product catalogs
The ARCHLine.XP Showroom contains high-quality fabrics, 3D models from leading product manufacturers and retailers. You can download and visualize realistic fabrics, colours, 3D models - instead of generic ones - within your project.
Categories
The textures in ARCHLine.XP can be managed using categories instead of using real existing folders. The Categories tool allows users to handle materials with greater flexibility.
Visuals
Rendering, photorealistic images
To create stunning images, ARCHLine.XP has first-class Render engine.
You can easily render lifelike fabrics, textiles, leathers and wall finishes with excellent light effects in daytime and night scenes.
Just in a few minutes.
Shadow Studies
ARCHLine.XP's real-time Shadow Engine lets you perform accurate shade studies on your models. Switch on the sun to see how it will affect your space at any time and date. Drag the time slider to watch the daylight move across your space.
Perspective/Orthographic views
Perspective and Orthographic (top, side, front) views are all available. Perspective views provide an in-depth look on the design, very similar to real life. With the orthographic view, all objects appear at the same scale.
Walk-through
ARCHLine.XP lets you get inside your model and take a walk-through. Using the keyboard or mouse you can easily navigate in the interior space as you do in a video game. You can look around in a room, go through other rooms, climb and descend stairs and ramps.
Wall views
The Wall elevation command shows items that cannot be clearly seen in a floor plan i.e. mouldings, signs, window sizes, or a decorative pattern. You can create it with a simple rubber band line crossing on the selected wall and placed automatically as a colourful textured but quotable image on your floor plan.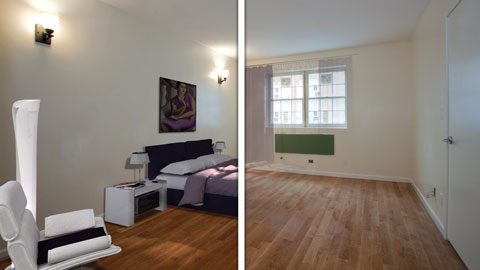 Virtual Home Staging
Match Photo
Virtual Staging is a great tool to showcase your vacant property as an attractive virtually staged home. You can add quickly furniture and other decorative elements to your photo.
No need to rent furniture, organize the staging, or take good quality photos, etc. This tool saves so much time and hassle!
Furthermore ARCHLine.XP INTERIOR's new Virtual Staging module allows you to create realistic images using photographs of the vacant property by simply adding furniture and other decorative elements to the photos in 5 easy steps.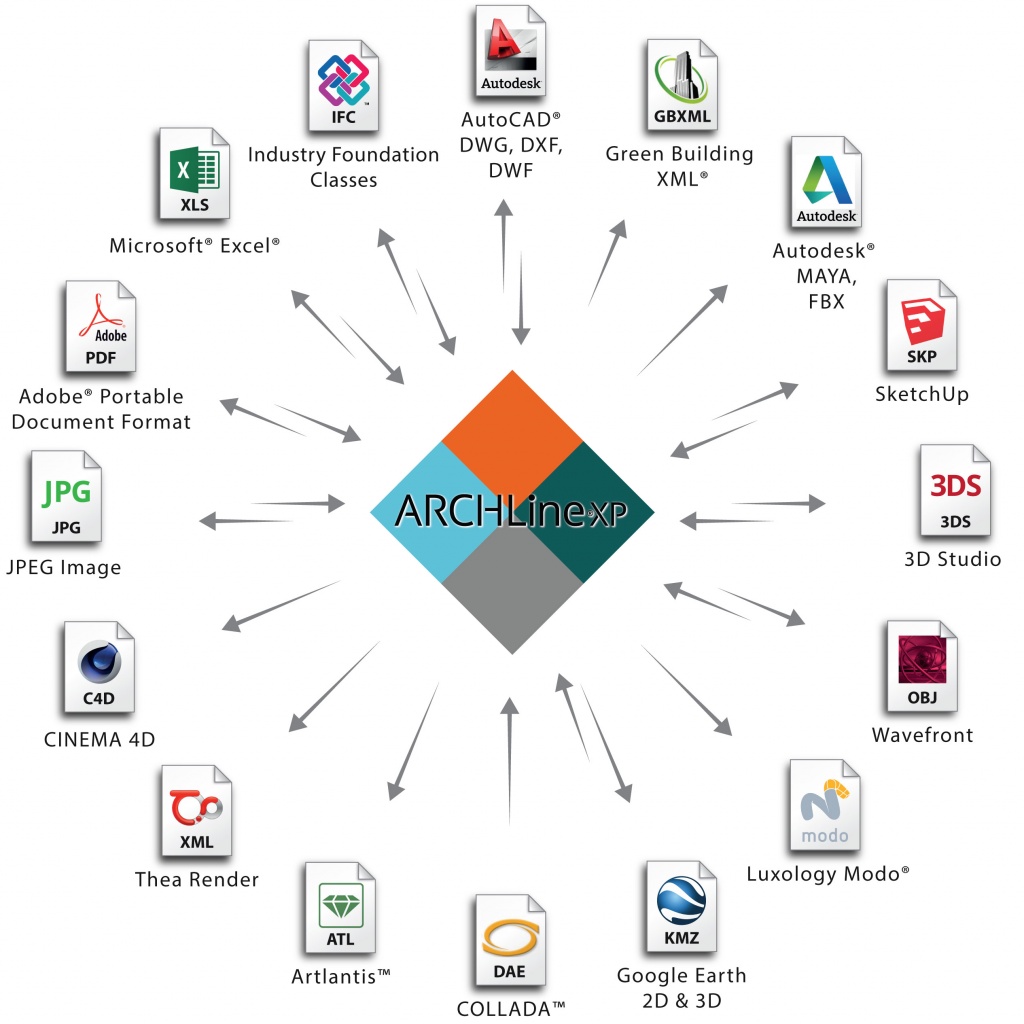 Export / Import features
Import & Export CAD Files
Frequently you have to send your project to someone who needs a CAD file. You can save your work as DWG and DXF files even if your project is a multi-storey building in one step. The geometry remains intact through the import and export operation and layers are also preserved.
Import & Export PDF
ARCHLine.XP imports multiple-page PDF files as images, so you can use them as a source file for your work when processing existing drawings. The imported PDF is converted into an image file and you can scale it precisely to work with real measurements. PDF export helps to share your design and rendering images with your clients directly or via email.
Import & Export 3D models
ARCHLine.XP supports 3D file formats such as 3DS, SKP, OBJ, ATL, C4D, VRML, Indigo, and Autodesk FBX. Using this export feature you can establish a good direct connection with some of the most popular professional rendering software.
Import & Export raster images
This tool allows a quick start of the work on a project by making it possible to trace over walls and other elements on an imported image of your floor plan. ARCHLine.XP supports various raster image formats like BMP, TIFF, JPEG and PNG.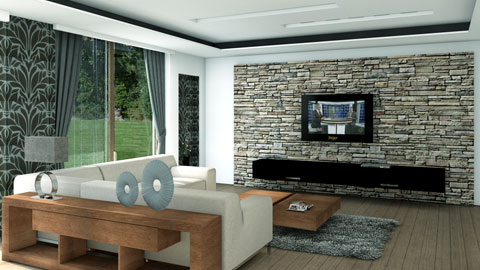 64-bit and multi-core processor support
Why 64-bits?
The ARCHLine.XP 64 bit version is recommended for users who deals with large projects or renderings as the 32-bit system means memory limitation.
Benefits of the 64 bit version
Modern software development and data processing is running up against a built-in memory limitation. 32-bit versions of Microsoft Windows can only allocate a maximum of 2 GB of memory to each running process, regardless how much real or virtual memory is available on a particular device. It means that large projects over this limit cannot be opened at all. The 64-bit system is not subject to the same memory limitation.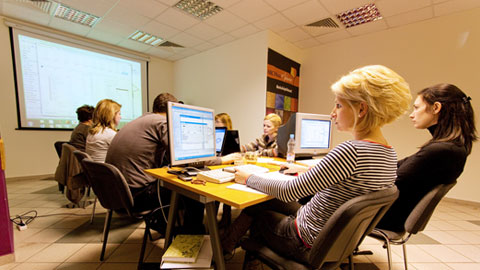 Help & Ease of Use
Video Tutorials
If you're struggling to adjust to the software, you can access many of the video tutorialsonline. Browse through Beginner, Familiar or Expert level videos. You can also watch the workshop tutorials or watch videos of the other users' presentations.
Online Help
For online help, pressing the F1 button will link you directly to the ARCHLine.XP user manual with hundreds of pages of technical information and instructions.
Workshops
Interior Design workshops are designed to give you the practical advice you need to be an expert designer using CAD software designer. You can take one of our in-person or live online workshops, which are capped at 5 participants so you'll have lots of opportunity to ask questions and get the information you need.
Duration: In-Person or Online workshop - 2 hours
Tech Support
All purchased software comes with a no questions asked, 14-day money-back guarantee and online support for the subscription time or 12 months from the date of purchase.Technical Support via phone, e-mail, TeamViewer and Skype is also part of the package.
Compare releases- ARCHLine.XP 2014 vs. previous versions