ARCHLine.XP
2014
New
features
Release is available!
Please check the following summary, watch the videos and try these new features of ARCHLine.XP 2014!

Watch the video - ARCHLine.XP 2014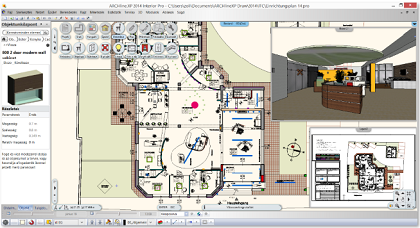 User interface
The broadly well accepted user interface of ARCHLine.XP 2013 continues with minor evolution in ARCHLine.XP 2014.
The most important improvement makes the DC (Design Centre) more effective and integrates new and well known functions in a very compact manner.
Search function is browsing the complete ARCHLine.XP item database.
You can collect the most frequently used elements into My Favourites.
The selected element is displayed as high resolution good quality image.
The new Design Centre integrates the Project Navigator tree structures as Project Manager, Templates and Zones..
Watch the video - ARCHLine.XP Interface
Watch the image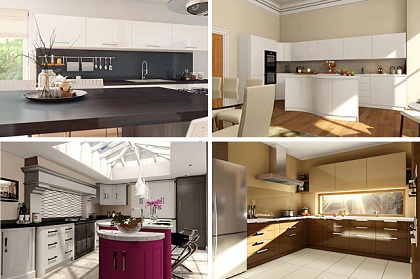 One click kitchen
Thanks to the ARCHLine.XP kitchen design tools you can create a fully detailed kitchen unit layout in one single step and you can even further customize each and every part of it.
With the help of the tools offered by the software you can work with factory defined units or you can design a fully equipped bespoke kitchen.
Click here to read more!
Watch the video - Kitchen design with one click
Tiling with real catalogue sets
The tiling template enables to add tiling pattern to wall or any other surface as a one click definition.
If you would like to try another tiling style, by a click you are able to change the whole tiling of the room or it is possible to modify the tiling styles wall by wall, so you can test the effects of them.
Create tiling patterns from the tiles of the selected manufacturer and save them in styles. These styles can be used in the project or saved into templates which are reachable in other projects as well.
Please create the appropriate tiles first and then you are free to dream your tiling style.
Watch the video - Bathroom Tutorial 1st part Tiling Style
Watch the video - Bathroom Tutorial 2nd part Tiling Style
Watch the video - Tiling Style

Lamps in group
Design the lighting with group of lamps
Lamps in group command allows you to plan lamps on the ceiling, or running front of the cornice, or build recessed lighting with profiled mouldings, or with false ceiling.
Watch the video - Lamps in group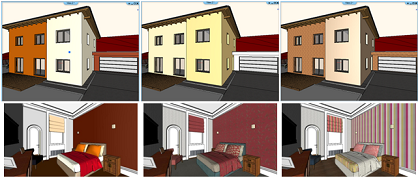 Texture management with apparent materials
The whole concept of architectural and interior design may change with applying the apparent materials.
Apparent materials are materials whose visual appearance changes depending on the real colour or texture at which they are actually associated and visualized. You can easily compare various solutions for the same building or room layout simply assigning different paint finishes, coatings without changing the 3D model.
Watch the video - Apparent Materials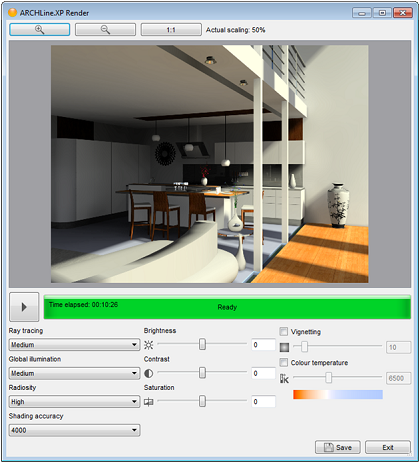 Rendering with post-processes
Ray tracing, Global illumination, Radiosity, Shading accuracy
The simple interface of the ARCHLine.XP Render is offering ready-made templates to quickly set up the quality of the final image. The image is rendered with a progressive rendering method which gives you the ability to have an idea of the full image and make decisions based on that even at the initial phase of the rendering. You can also zoom and pane the image while it is still not finished to check the smallest details. If that is necessary, you stop the rendering at any time; you can make fundamental changes and start another render without closing the renderer.
The post-processes are extremely useful as they allow you to make changes on the image even during rendering, so you can fine-tune features like brightness, contrast or many more without having to save the image and open it in an image manipulator tool.
Watch the video - Rendering with post-processes
New concept of balusters
Balustrades in ARCHLine.XP enable you to control every aspect of balustrade design
Balustrades can be freestanding or anchored to stairs.

Enhancements of the repetitive and unique elements will help the followings:
• repetitive elements within a period which may vary along the height of the specific arbitrary arc
• period within a large interval
• period in the second period
• The period separating corner elements
• Individual components such as frames, bars, unique pattern elements.


Enhanced Detail Bubbles
Enhanced Detail Bubbles—Control the appearance and placement of bubbles on custom form for even more graphic detail.

Multiple leaders
Multiple leaders is a new feature that helps you create leaders with more control and flexibility. A multiple leader consists of multiple arrowheads, leader lines or curves, and one text label.
You can add any number of Multiple leaders into a single leader Label dimension.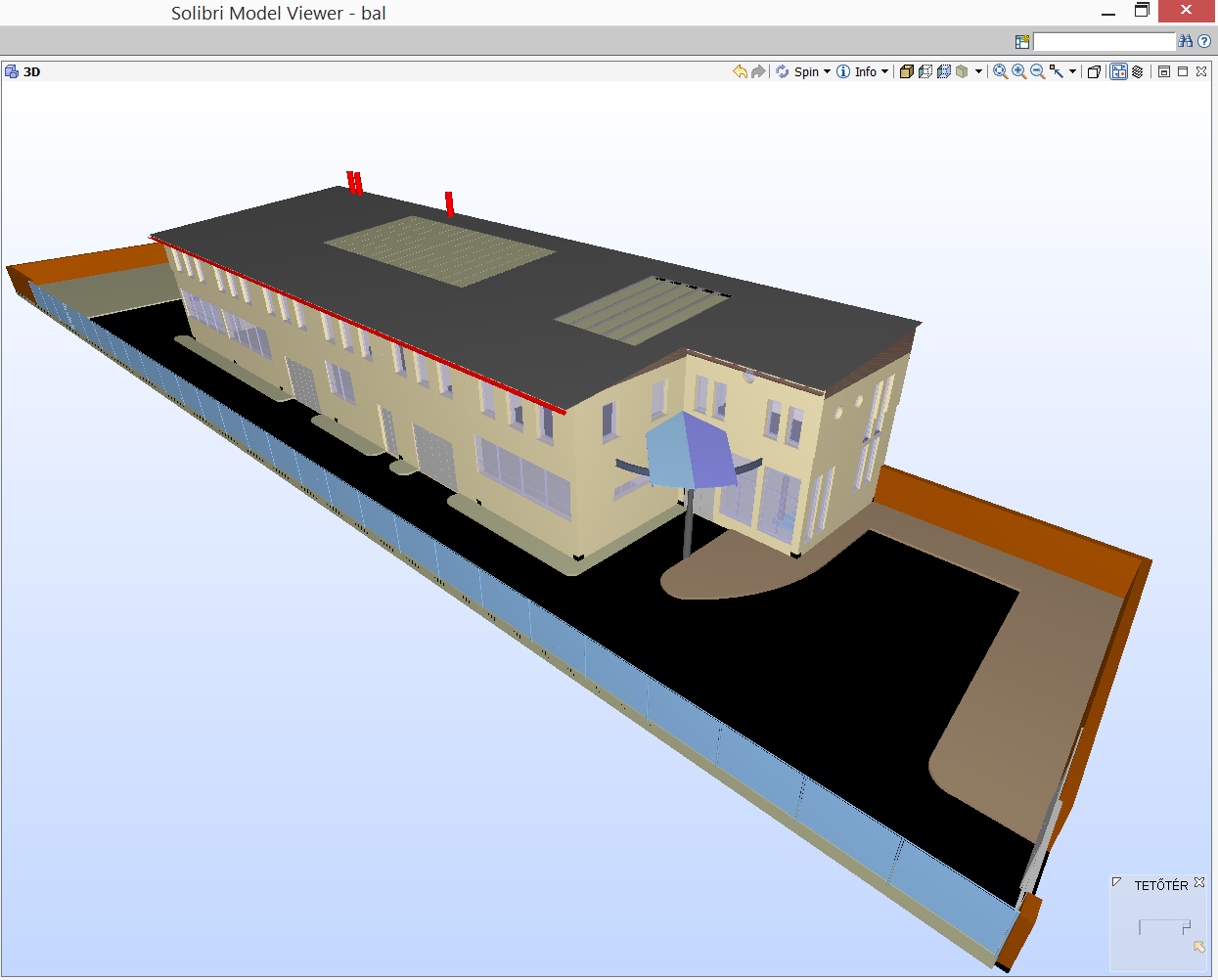 IFC Export
IFC Export - Industry Foundation Classes
The 3D model can be exported into IFC format based on the IFC2x3-TC1 version.
The IFC model export format generated by ARCHLine.XP is the way in which the 3D architectural model information can be transmitted to Structural, Quantity take-off or similar applications.


Multi-touch screen support
Multi-touch gestures
The ARCHLine.XP 2014 is the full feature design software that you interact with using your fingers.
To use ARCHLine.XP with multi-touch gestures, you need a tablet or a laptop with a screen that supports multi-touch or a desktop PC connected to a touchscreen that supports multi-touch.


Move over mouse
When you use ARCHLine.XP 2014 with a tablet or touchscreen PC, you can browse your projects, zoom, pan, draw or edit - using nothing but your fingers.
If you find difficult to use your fingers you can choose an alternative solution using a simple capacitive stylus.

When you have multiple drawings open, switch between them by tapping on drawing pane bar.
Need to zoom in? Place two fingers on the screen of a multi-touch tablet and spread them apart.
To draw a wall, touch it with one finger and tap the screen with a second to place the starting and end point.

ARCHLine.XP with Touch is fun to learn and easy to use..


You can find the new features of previous versions of ARCHLine.XP® by clicking on the following links:
Compare releases - ARCHLine.XP previous versions