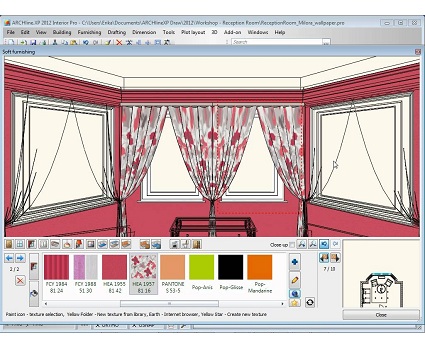 The Room Maker
AThe Room Maker is 2D/3D single platform that integrates your interior design work into one easy to use 3D panel. Starting from any room shape you can complete it with doors, windows, finishes, lights, curtains, sockets, switches, cornices, skirting boards, pictures on wall all by using this smart design method.
ARCHLine.XP offers you wallpapers and fabrics for curtains soft furnishings and upholstery in wide range of variety and high quality.
Real Textures, Colours and Fabrics
Whatever your design style, you can create beautiful textured walls, floors, curtains and other elements. As a result the room will take on a whole new dimension.
ARCHLine.XP Showroom: Virtual catalogs
The ARCHLine.XP Showroom contains high-quality fabrics, 3D models from leading product manufacturers and retailers. You can download and visualize realistic fabrics, colours, 3D models - instead of generic ones - within your project.
From historical, antique to modern styles, we offer you seamless and tileable patterns for your designs.