ARCHLine.XP
2011
New
features
ARCHLine.XP® 2011 Release is now available! You can find information about the upcoming new features on this page.
ARCHLine.XP® 2011 contains the following enhancements and new features: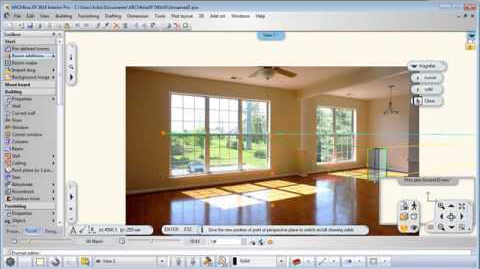 Virtual Staging
Virtual staging is a fast, easy and economical way to illustrate how the room looks with the new furniture in.
ARCHLine.XP Interior's new Virtual Staging tool allows you to create realistic images using photographs of the vacant property by simply adding furniture and other decorative elements to the photos.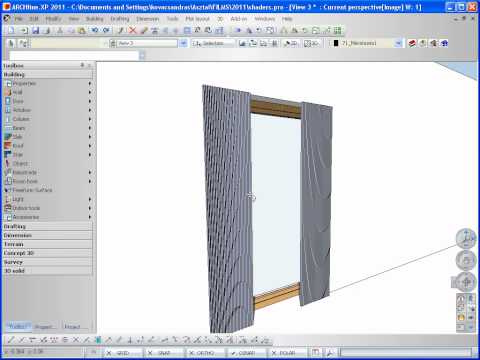 Soft furnishing: Venetian blind, Vertical blind
Soft furnishing: easy to add colour, fabric, softness and style to the room directly from producer's website. ARCHLine.XP 2011 soft furnishing tools are further developed and added new powerful tools for Curtain definitions: Venetian blind and Vertical blind complete the existing curtain tools of classic curtain and roman blind.

External louvres
Building regulations requires the mounting of solar shading on commercial buildings and it should be fixed. External louvres protect against summer heat but allow beneficial low angle winter heat. ARCHLine.XP 2011 helps you to create external louvre in a few steps.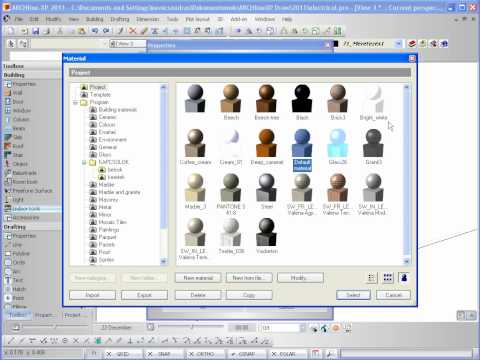 Electrical home accessories
Placing electrical home accessories is part of the modern interior design. Sockets and switches are not purely functional objects anymore. You can work with stylishly sophisticated sockets and switches that represents important role on interior design. Switches and sockets can be grouped in frame horizontally or vertically, choosing them from the predefined libraries or you can create new ones in a few steps.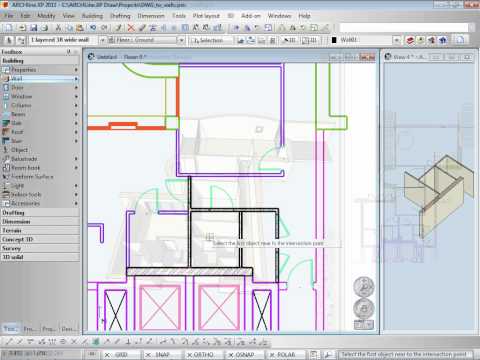 Walls on DWG drawing
Walls on DWG drawing command allows you to convert lines from imported DXF/DWG drawing to walls in 2D scaled floor plan. In the next step the 3D model is automatically generated.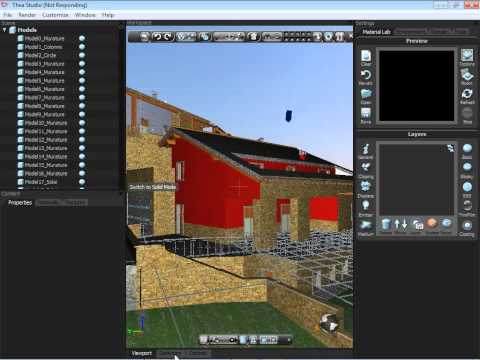 Support for Thea render
Thea render is a state-of-the-art biased/unbiased renderer with a rich set of innovative features, a powerful material system and its own advanced studio, all-in-one. ARCHline.XP 2011 provides full support with native format data transfer that offers significant performance and very impressive new rendering quality.
Learn more at www.thearender.com
Custom Door design
From the basic door types to special door types the door wizard guides to design with simple rules new door types as interior, entry, glass and steel doors. You can add producer and product information as well to produce real quantity take-off later.
Wall Elevation View
Elevation is a view of an interior or exterior wall. Wall elevation view shows items that cannot be clearly seen in a floor plan i.e. mouldings, signs, window sizes, or a decorative pattern that is applied on the wall. You can create it with a simple rubber band line crossing on the selected wall and placed automatically as a colourful textured but quotable image on your floor plan.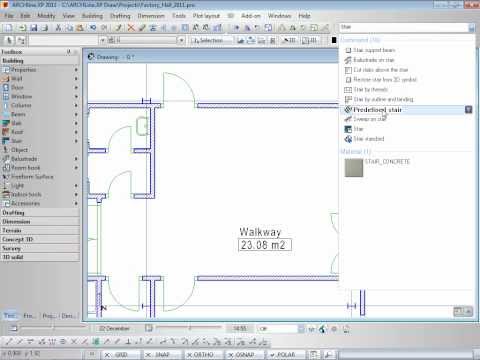 Search Engine
New navigation feature: easy to find any commands, openings, objects, textures with any part of their name that you remember. You can type and the search engine offers you all possible choices within a second.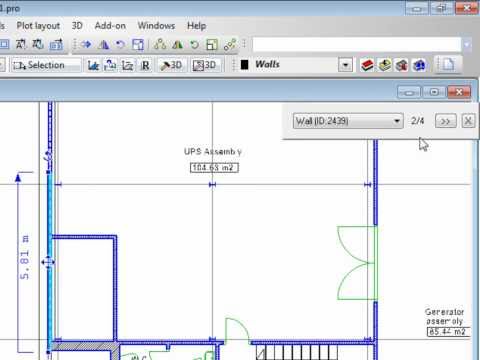 Improved user interface
The interface is further modernized and introduces new tools: Design Center, Search Engine, context sensitive Subcommand Toolbox, and Selection Tool.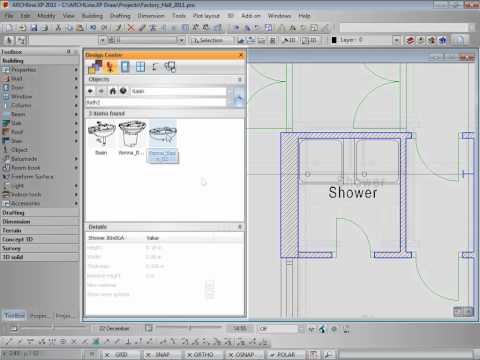 Design Center
The ARCHline.XP 2011 Design Center is new graphic interfaces that speed up your work with easy access of the openings objects textures, lights, 2D groups and other types of elements. The Design Center contains the new search engine, and tag system helps you to find any elements within seconds with. You can apply a texture or place a model with drag and drop method from the Design Center without any other operation. The ARCHline.XP® 2011 provides you the real tool to manage unlimited number of quality object. The Design Center can be docked to one side of the screen or be placed in a floating position.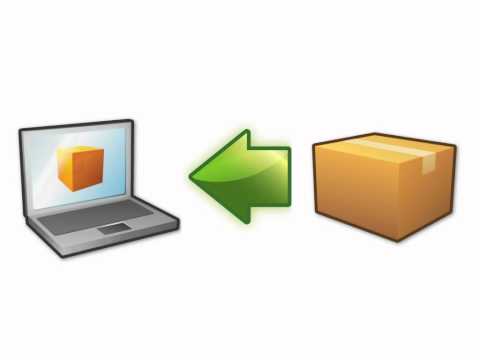 Package Your ARCHline.XP 2011 environment
ARCHLine.XP 2011 has a new feature in each of its versions to package your working environment (user defined tools, menus, commands, shortcuts, sets, textures, objects, etc.) so that it can be moved to any other computer. All is packed into one file so the working environment can be copied or archived with one click.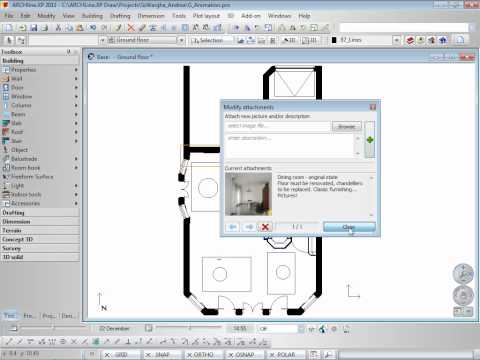 Adding Photos and Comments
ARCHLine.XP 2011 allows you choose unlimited number of photos and comments you'd like to attach to any objects and to display over the place you're viewing. Enter any comment or photo about the room, the wall to demolish, or any special detail of project and share it with your working partners.
You can find the new features of previous versions of ARCHLine.XP® by clicking on the following links:
Compare releases - ARCHLine.XP previous versions