New Software package for Building Survey and 3D Interior Design
Budapest, Hungary, August 28, 2016 – OrthoGraph Ltd. Teams up with CadLine Ltd. to provide a fully digital solution for the architectural and interior decoration industry. As part of the joint venture, OrthoGraph licenses will be packed together with CadLine's ARCHLine.XP 3D CAD/BIM design software to ensure that users have a thorough digital experience – from the site survey all the way to the stunning digital render. The software package will debut at this years' Decorex International, Stand 54, London, UK, September 18-21.
OrthoGraph is a professional building survey software for iPhone or iPad, made for anyone, who needs to map out and measure buildings. The program converts hand drawn sketches into digital walls, allowing the users to accurately measure and document the built environment. OrthoGraph aims at cutting down on the time spent on the initial site survey while eliminating the user errors by providing instant visual feedback. The end result is a 3D digital floorplan which can be exported into several file formats, including IFC, ARCHLine.XP natively reads.
ARCHLine.XP is "3 in 1" CAD/BIM design software which incorporates the workflow of architecture, interior design and modelling furniture. ARCHLine.XP is able to seamlessly import the OrthoGraph survey files, so the rooms data gathered on the field can be used instantly as coordinated and computable building model. In addition to this ARCHLine.XP has a rich set of specific interior design tools such as furniture, blinds and curtains, lighting, tiling, moulding, etc. Designers can easily furnish rooms and render lifelike fabrics, textiles and wall finishes with excellent light effects in daytime and night scenes. Just in a few minutes.
The mission of the software package is to speed up the otherwise manual and tedious site survey, and allow the user to use consistent and reliable interoperability across the mobile and desktop applications. With this milestone the software package offers practical, real-world solutions for all interior designers.
This fully digital solution saves time, keeps the design precise and accurate. The designer can focus on the creative part of the project.
Check out this video on a restaurant renovation to see how seamlessly the two solutions cooperate.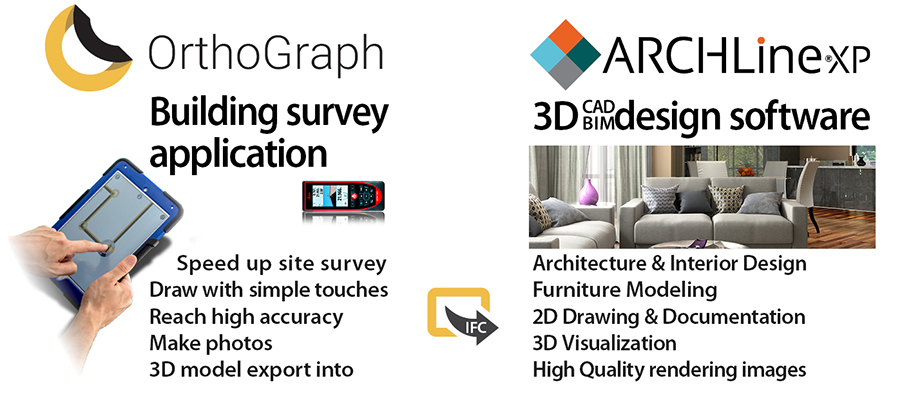 Visit us at Decorex between 18th-21st September 2016, Syon Park, London, Stand B54.
To get your promotional offer, e-mail us (This email address is being protected from spambots. You need JavaScript enabled to view it.).