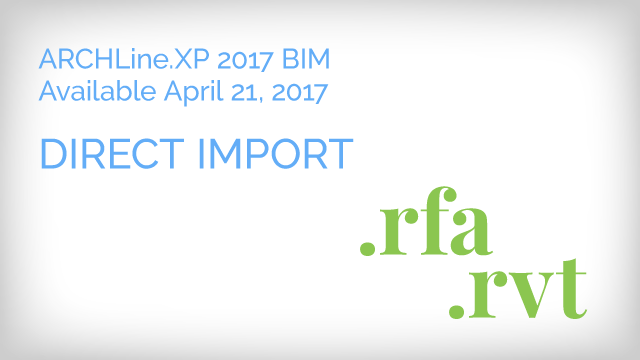 ARCHLine.XP 2017 software is built for Building Information Modeling (BIM), helping professionals in design, documentation and collaboration.
ARCHLine.XP IFC support for CV2.0-Architecture Import/Export is certified by buildingSMART. IFC interfaces to import/export IFC files are fully integrated into ARCHLine.XP 2017.
The latest version of ARCHLine.XP includes Direct Import of Revit RFA, RVT files.
Easy-to-use interface & workflow not only for the experienced users but beginners in CAD/BIM design as well.
New features and user requested enhancements, including:
BIM: Standard and certified IFC export and import. List of Certified Software
ARCHLine.XP 2017 users can import and view of the RVT, RFA files types - watch the video
Import PDF geometry:,Fast, accurate way to reduce to minimal the time is spent on processing architectural file in PDF
Real-time rendering;
Virtual Reality 360: Explore your project in 360-degree virtual tour
Designing 3D shapes: The "3D shape" is an essential design tool when designing simple 3D bodies or creating fast conceptual prototypes of real-world items.
Excel file import: the new Excel file import command enables you to upload content of Excel files to floorplan.
New tiling method in 3D- Save time and energy by using tiling in 3D. You can change the bathroom tiling layout with one magic spell. The tiling style can be modified in one step.
Mosaic tiling - Randomly generated tiling with four different materials or four different sized mosaic tiles.
LED light strips - LED light strips are brilliant tools for decorative and hidden light representation
Improved Material settings - Textures in ARCHLine.XP 2017 bring your geometry to life
Printing layout developments - Autofill and automatic placement of default stamp, Separated Architectural Scale factor;
4K monitors: Scaling the interface, support for ultra HD resolution monitors
Improved user interface - see the changes here