Budapest - With 8 of its most important markets represented, CADLine Ltd. organized an International Partner Meeting, where the features of the upcoming ARCHLine.XP 2019 version were unveiled.
On 15-16 November, CADLine, the developer of CAD and BIM solutions for international AEC clients, hosted a 2 day event for its international distribution and resale partners to discuss CAD features, development needs, industry expectations and the intricate differences between markets. The most important topic to discuss: the upcoming edition of ARCHLine.XP.
"Of course, we have our own ideas and roadmap regarding what to develop next, but at the same time we have to take into consideration what our international partners, and ultimately, their clients ask for. When our own ideas overlap with what others expect from us, we know that we are on the right path." Zoltan Toth, CEO of CADLine.
Coming from all walks of lives and industries, representing 8 different nationalities and cultures from Italy to South Korea, attendees were shown the new ARCHLine.XP features - these ranged from interface adjustments, improvements on existing features, all the way to the brand new functions, which the ever-changing architectural world demands. Then, as part of a roundtable discussion and open brainstorming session, attendees were able to do some networking with their peers. By nature, they all came with different backgrounds and expectations, but the message they brought with them was in unison: the industry desperately needs an easy to use BIM software, which is easy on the "newcomers", but at the same time, it's powerful enough to handle complex projects and deliver great visuals.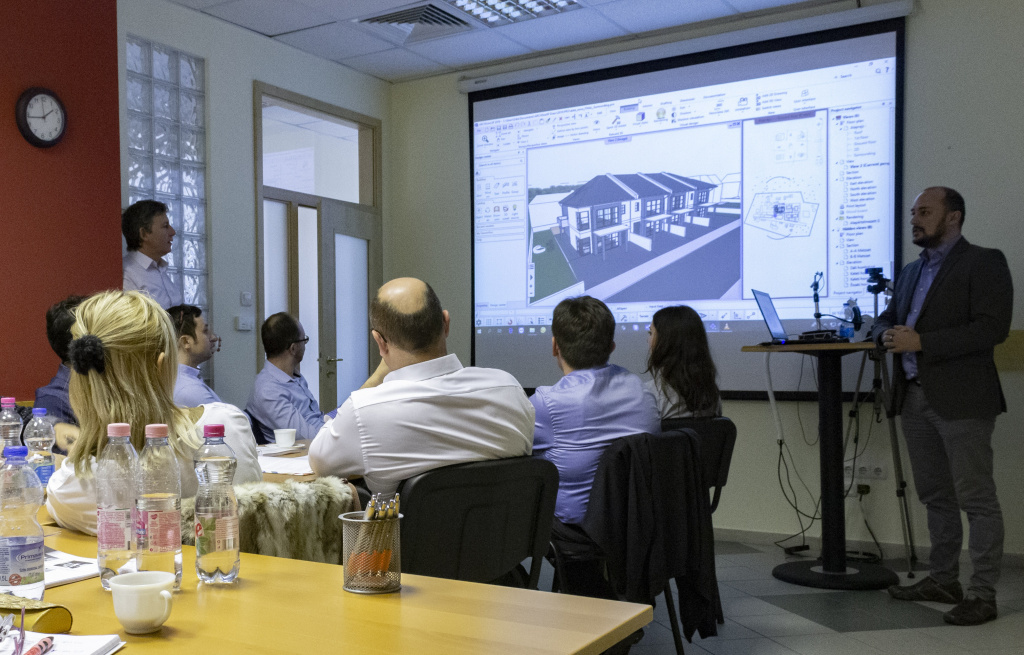 CADLine's Product Manager, architect Illes Papp explains advanced ARCHLine.XP 2019 functions
The event and the initiative was welcomed warmly. "The opportunity to personally meet the CADLine team as well as other partners was great. From what I've seen, ARCHLine.XP has a bright future with us." TMsys, Poland.
The partner meeting closed with confidence in the upcoming features, a promise of an even better program, and the prospect for the growing number of ARCHLine partners to meet in fall 2019 to continue the work started.
ARCHLine.XP 2019 is scheduled to launch in April, 2019. Stay tuned to announcement news.
Visit the dedicated "Gateway to BIM" site to learn more on CADLine's BIM efforts.
CADLine's international distribution and resale partners list this way.