Budapest - CADLine Ltd. held its 2nd Annual Partner Meeting, where the new ARCHLine.XP 2020 features were discussed for the first time ever.
On 11-12 November, CADLine, the developer of CAD and BIM solutions for international clients, hosted a 2 day event for its international distribution and resale partners to discuss the upcoming edition of ARCHLine.XP.
"With the introduction of new products and complex features, the product family is about to enter a new quality standard. Now that we have more and more partners joining our journey, our aims are really within reach." Zoltan Toth, CEO of CADLine.
The most important topics discussed at the meetup:
The introduction of existing and new distributors and marketing partners
The presentation of new ARCHLine.XP 2020 functions
Introduction of ARCHLine.XP LT, the entry-level BIM software
New MEP and HVAC tools for complex ductwork design
Enhanced new features of ARCHLine.XP Live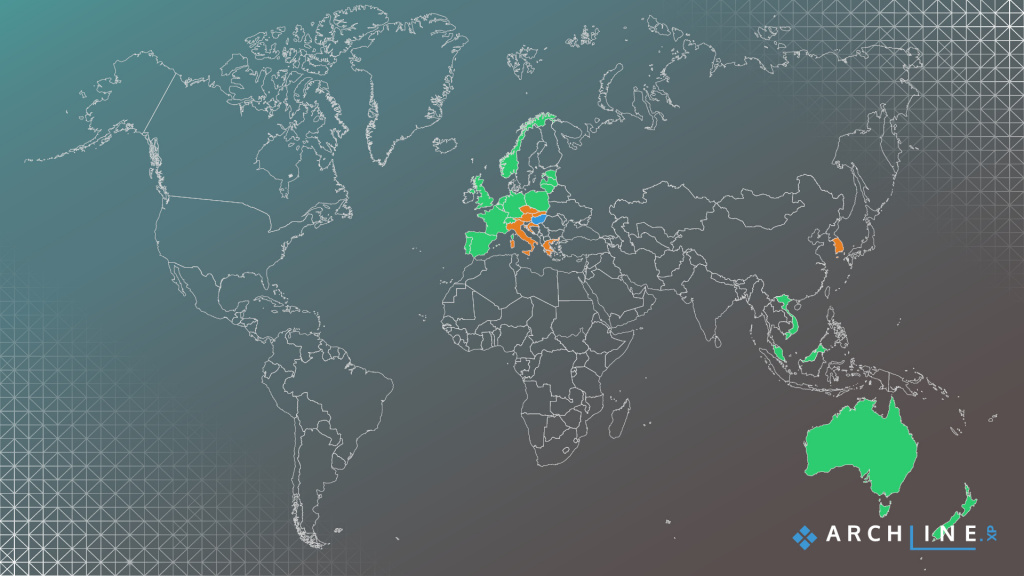 CADLine's reseller and channel network is growing day by day. Blue: our home country; Orange: our tradiitonal markets; Green: our new markets since 2018.
Introducing: Gridlines in ARCHLine.XP
The 2020 version promises grid-based design, a must-have for large building projects. The solution will deliver automatic numbering, and automatic grid tracking.

An example for grid-based work in ARCHLine.XP
ARCHLine MEP: here comes the next level!
When say BIM, we're usually talking about a whole building, which also includes pipelines, vents, ductwork and other elements. We gather these elements under the umbrella term "MEP" tools (Mechanical, Electrical, Plumbing). Specialized tools do exist for planning these, but they are often expensive and very complex.
The ARCHLine.XP MEP toolset aims to integrate perfectly into a BIM workflow. It will include a wide range of BIM tools and data:
MEP systems, components with properties
Components, fittings and elbows
Creation and modification of HVAC systems
Link with Open BIM: Import RFA, export IFC
Fittings & connectors
The fitting system is an important point for any engineer working on MEP parts. Fittings are objects representing junction points between each MEP component, and connect them physically. With ARCHLine.XP, each MEP component will always have their fittings, and they will be linked to neighboring components.

Fittings and equipment are integral parts of MEP work in ARCHLine.XP
Concerning HVAC equipment itself, ARCHLine.XP can interpret the families of RFA parts to import them into your model.
ARCHLine 2020 with its MEP features is expected to be available in March 2020.
What's new with ARCHLine Live?
The powerful ARCHLine Live real-time rendering software will also benefit from improvements and new functions, starting with compatibility with SketchUp models, allowing you to integrate them directly into your rendered images.
The real-time connection with your 3D model in ARCHLine XP will also be implemented so that all your changes will be updated directly in ARCHLine Live. But most importantly, there will be a big library update which will bring more furniture, lights, birds, plants, materials and more.
New camera effects will also be added: depth of field, light refraction, lens flare, tilt-shift etc. New options for brightness, contrast and saturation will also be developed and released to the public..

A glimpse of the effects ARCHLine.XP Live is looking to implement
See you next year!
The event proved to be another successful one, where old and new partners alike found something to their liking. Old friends reunited, and new connections were made. See you all next year!

A group shot of the participating distributors and the CADLine Team.
CADLine's international distribution and resale partners list this way.