ARCHLine.XP holds its end of the year promotion between 23 November and 20 December. During Sale Weeks we offer 20% off our full perpetual licenses, and also a 2 hour personalized training. It has never been easier to start working with ARCHLine.XP.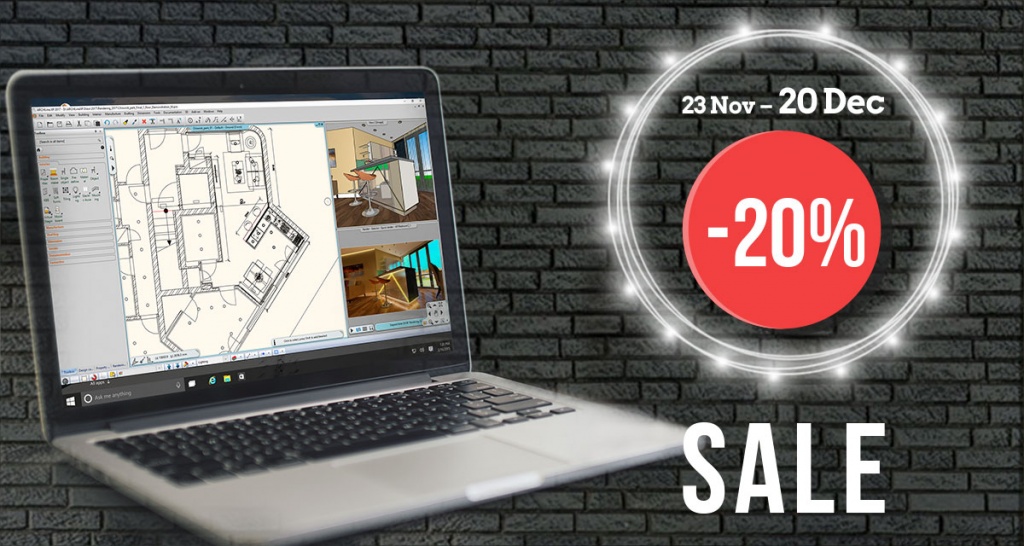 We know that choosing the right CAD software is a long and difficult process. We even wrote an article on it.
That's why we decided that a simple discount is probably not enough of an incentive. Therefore, in addition to a nice, 20% discount from the full perpetual price, and the ability to pay in instalments, we also throw in a complimentary, 2 hours training, during which you'll be trained on the basics of the ARCHLine.XP workflow. Head over to the price list, and get our discounted prices before 11 December!
ARCHLine.XP is an architectural design software for BIM (Building Information Modeling), including features for interior design and decoration projects. It supports the multi-disciplinary design process. It helps you to collaborate with co-designers through the IFC, DWG™, and RVT™ formats.
The software includes the whole process of architectural design, interior design and the planning of bespoke furniture.The complete floor plan, 3D model and project documentation can be created within the software - the furnishing, tiling, lighting processes are fast and easy. The section views, construction details, printing layouts, schedules, Excel reports, and renderings can be created with just a few clicks.
Looking for a solution for Interior Design? Head over to the Interior Design Benefits site to learn more about our visualization, furnishing and manufacturer tools.
Looking for a BIM solution? Our "Gateway to BIM" site tells you all you need to know about our BIM abilities.