Ljubljana - e-DISTI doo held its first ARCHLine.XP presentation to Slovenian professionals.
THE KEY IS IN CHOOSING THE RIGHT DESIGN TOOL
A designer needs appropriate design tool to express and present himself to clients. Which tool does the individual chooses depends on the work itself, creativity, character and his needs. Due to the advanced technology, many are obliged to let go of their common tools and learn about something new, advanced and in line with present time.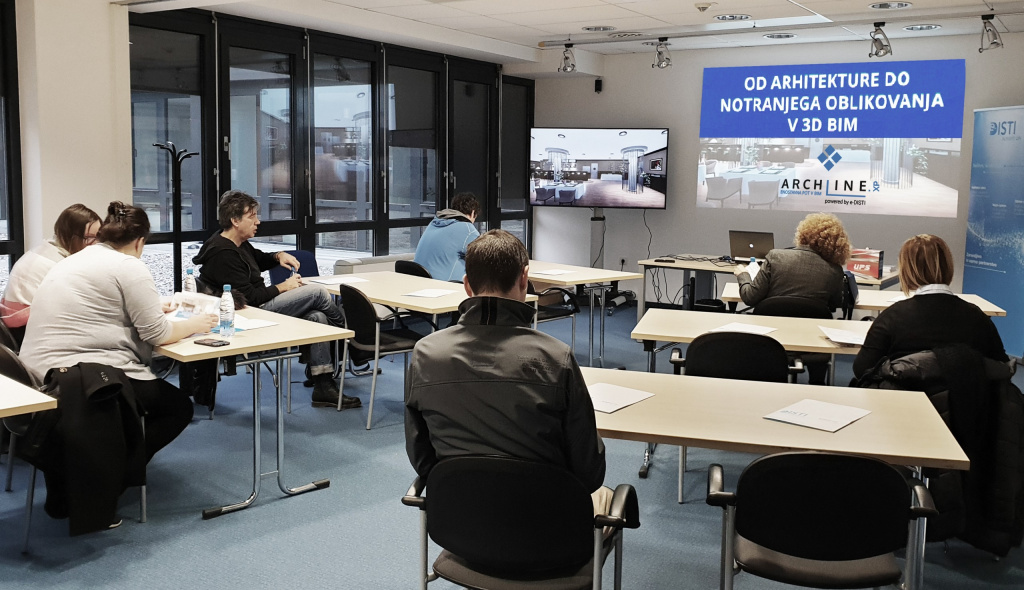 At the event on the 4th of february 2020, architects and interior designers got together with the same interest – find out more about BIM technology and get familiar with new advanced software and its features. We introduced how BIM software is used in ARCHLINE.XP through workflow on real examples. Visitors got familiar with all ARCHLINE.XP products!
We were also motivated by a live video call from CadLine Ltd. company from Budapest - from the very source where ARCHLINE.XP was founded and has been developing since 1991. Visitors got a sense of who are the people behind the product, creating inspiring digital technology.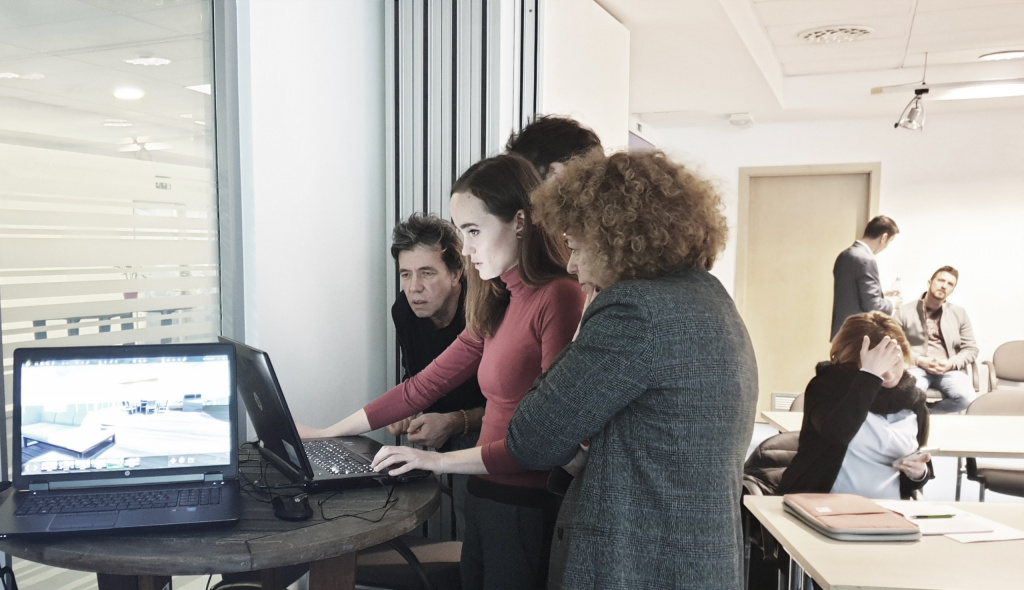 Mojca Valant of e-DISTI showing the most recent features of the ARCHLine.XP product family
GATEWAY TO BIM – CAD AND BIM TOOLS
ARCHLINE.XP kept already known CAD tools and combined them with 3D BIM features. For 2D users is easier to transition by saving time on deployment. The work environment contains space for 2D drawings and 3D model, which is the main result of the building process. Drawing tools are sorted into categories and contain elements involved information: BIM parameters, material and geometric values.
ARCHLINE.XP FOR ARCHITECTS – modeling a building from foundation to roof
The reason that ARCHLINE.XP is suited for architects is in large set of tools and features for the designer. We can be productive and creative while designing a building at different phases from foundations, through planes and walls with all necessary furniture to the roof. The documentation can be calculated and verified by quantity take-off option. For further need, project plans can be printed on currently selected view or prepared on a default sheet size, for making a PDF format.
Designing becomes fun and easy with all the best ARCHLINE.XP features. With overview of all plans and the information based in one project file, the project itself becomes more reliable and the designer have greater control over a building's life cycle. In one project we can create everything we need: 2D plans, a 3D model and insert furniture. For the final look and presentation, we can create visualizations or animations, take-off the quantities and prepare everything necessary for printing.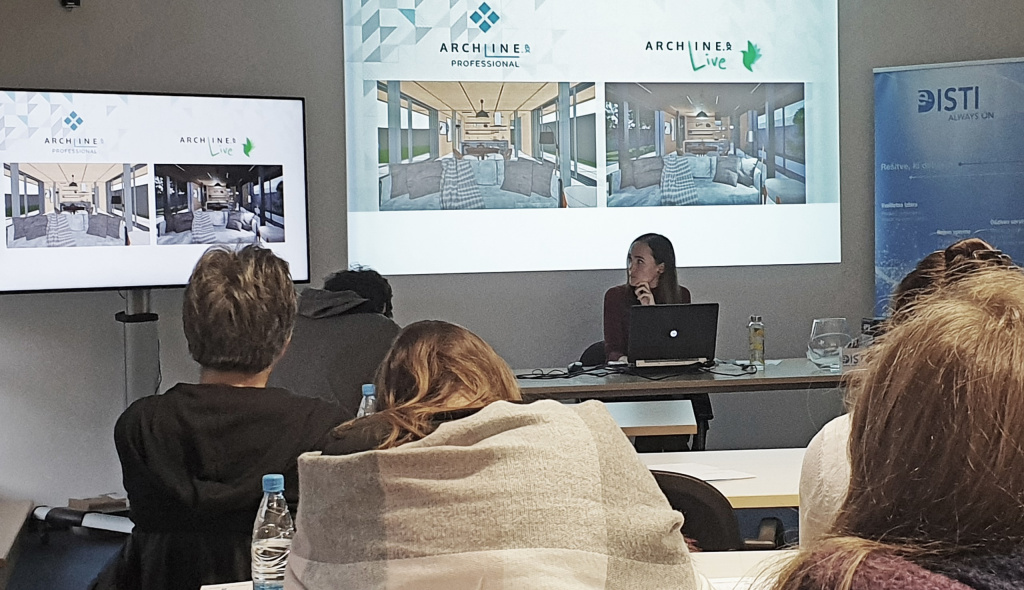 ARCHLINE.XP FOR INTERIOR AND FURNITURE DESIGNERS
ARCHLINE.XP contains most of its tools and features for design, furniture production, detailed decoration and presentation, which gives interior designers a useful advantage in use as well. Thanks to the best features such as room maker, cabinet maker and 3D tiling, designing becomes simpler as it gives you a better understanding of the future space and form created.
With the help of pre-prepared elements, we can create furniture templates which can be taken for a better perception of the idea or subsequently edit them as a whole or each element as an individual. Designer can create his own furniture by creating smart objects, drawing a 2D shape and turning it into 3D model by determining its size and adding materiality - soft or hard. The final model involves all the parametric values and contributes a better final appearance and presentation.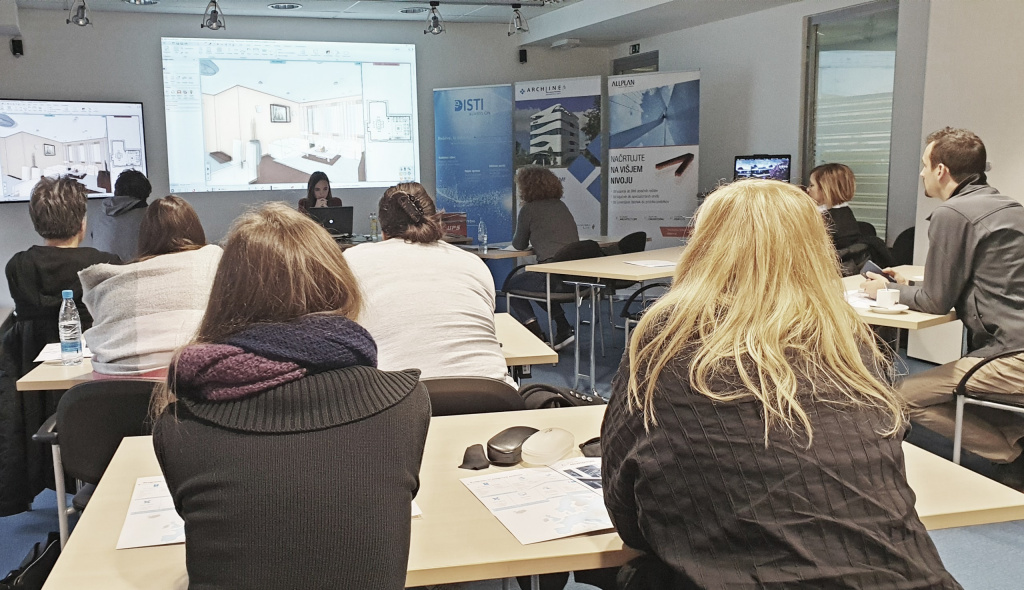 COLLABORATION AND FILE EXCHANGE
In addition to the ability to work on one project at the same time, ARCHLINE.XP offers the export and import of many other file formats (DWG, RVT, IFC, SKP …). There are several alternatives available for file sharing which makes collaboration easier, faster and more efficient. Communication with fellow engineers and your clients is no longer an issue!
BIM LIBRARIES
The access and integration of online BIM libraries, such as 3D WAREHOUSE, BIM OBJECT, SHOWROOM, SYNCRONIA, SANITARY WARE, and CADENAS, certainly add a lot of value to ARCHLINE.XP software. Import desired manufacturer's product or public 3D models, which are the result of users of other software, into your project. Improve your project with better appearance of future space you designed.
INSPIRING PHOTO-REALISTIC PRESENTATIONS
ARCHLINE.XP LIVE is animation software designed for photo-realistic presentations and further improvement for your existing building or space model. For a better presentation, we can choose between rendering, animation, virtual walks, adding materials, simulating sun and shadows, inserting vegetation, people and adding fire or water movement.
Curtesy of Mojca Valant of e-DISTI: http://www.archline.si/
CADLine's international distribution and resale partners list this way.