Ms. Alice Alghisi (IT) architect, ARCHLine.XP user talks about his work, passion, and what ARCHLine.XP adds to her day-to-day efforts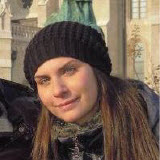 "I graduated in Interior Design and Decoration at the L.A.B.A. Free Academy of Fine Arts of Brescia, specializing in interior and urban design. I have always found that ARCHLine is a very intuitive program. I can create understandable and clear designs with just a few steps. I use the program for both work and projects carried out at the universities.
The program allows me to cut the hours spent with work in half, as my 2D and 3D design goes hand in hand. Also, it's great that clients can immediately "see" what the final results will look like.
I combine ARCHLine with Thea to get photo-realistic renders, and the results are truly amazing!"
Alice Alghisi
This email address is being protected from spambots. You need JavaScript enabled to view it.
Check out Alice's work in the gallery below
Test ARCHLine.XP now - download a free trial
here
Got a similar story? Let us know at
This email address is being protected from spambots. You need JavaScript enabled to view it.