Many people think that learning a 3D CAD/BIM software is tedious and only for experienced engineers. Well, actually it is not quite true. I must admit there are things to learn, but to acquire a software is not so complicated.
The key element is that you need to start using the program step by step. This way will become apparent the concept of each step.
In this article, we attempt to explain what you need to obtain in order to exploit the advantages of our own ARCHLine.XP 3D CAD/BIM Design Software.
1. Things you should do before starting
Choosing the right software is not so easy, last time we gave you some tips and hope you found them useful. (Read more here in this Blog).
Do not forget to check the minimum system requirements which allows to run the software on your PC or laptop before the purchase.
Once you have the long desired software you still need to have one more thing.
Choose the right mouse for your work!
It is essential to use the appropriate mouse. Let me explain why. If you do a model in 3D, you need to view it from all sides. Orbit, Zoom and Pan are the most frequently used commands in 2D and 3D views either. Three-button scroll wheel mouse has a shortcut for these commands. The three-button scroll wheel mouse makes modeling quicker and easier than modeling on touchpad or without a scroll wheel or with a one-button mouse.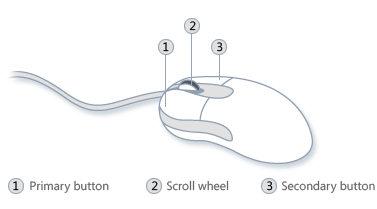 2. Getting started
When you finished the software installation open a new, empty project file. Start with drawing a wall. Search for the Wall icon in the Toolbox (left side of the interface).
Click on it. Then define your first point by clicking in the drawing area. Now the software asks you to specify the next point. Just click anywhere in your drawing area, don't care about the size or coordinate. Your first wall appears on the screen and the 3D view is created by the software automatically on the right side. Your screen will look similar to the picture below.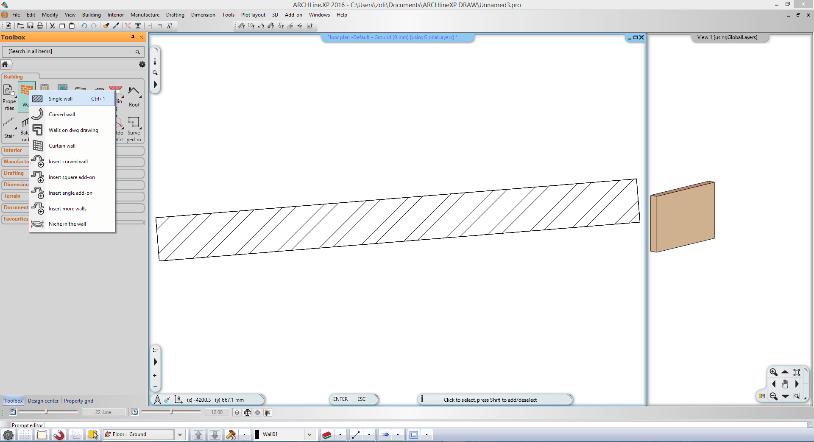 You see your floor plan on the left side and your 3D view parallel on the right side. Try to navigate through your drawing. Pan, zoom in and zoom out using the mouse scroll wheel. Get familiar with navigation tools. It will be much easier for you later if you learn how to draw.
It's difficult to remember every commands. You can also try to activate the command, then press F1. It opens the help menu with related topic. This is the easiest way to find out how a command works.
3. Interface
Now it's time for you to know more about the interface. If you already familiar with Windows and some other Windows applications, then this won't take too long. ARCHLine.XP is a Windows compliant software, so should taste the same.
Check out the Top menu, the Toolbox, the Design Center, learn how you can access and activate drawing tools, and modify tools and any other tools.
As a start, it is important to get to know how the basic tools are functioning, mainly to understand the concept, so you can achieve more with them.
Drawing tools in Toolbox are to create new objects. Most basic tools name describe what they do. Most of the basic tools' name are descriptive, explains clearly what they are for.
Clicking on the Wall tool, it will create a wall. The same applies on window/door tool, it will place a window/door on a wall.
If you wish to know more about a command you can just let your pointer above the icon, and let the help tooltip pop-up and explain it briefly.
Design Center is the collection of built-in objects, doors/windows, materials and other useful predefined objects. Learn how you can use the drag and drop commands.
I shortly explain what the "drag and drop" means. Simply click on the requested item, grab it and drag it to the drawing area.
4. Precise Input
Now you should get familiar with precise input. Precision is one of the advantages of using CAD. Your drawing is worthless if it is not correct.

At this time you will learn about distance definition, and how to use relative coordinates to draw accurately.
Specify the starting point of the wall on the drawing area by a click. Move the cursor horizontally to the right and type the 5000 on the keyboard and press the Enter key.
5000 means the relative distance in horizontal from the first point in millimeter.
The 5 m long horizontal wall is created and a new 3D view appears on the right side of the screen which shows the 3D model of this wall. The software automatically generates the 3D model.
Remember the software is using a template for length, angle and other units. By default it works in metric units and use mm.
5. Object Selection
Obviously you need to select objects when you modify them. To select one object, simply click on it. But if you are going to modify more objects in one step then you should learn some more tricks.
The most commonly used commands are the Window and Cross Window selection.
Window selection means to define a selection rectangle from left to right. Once the rectangle is defined, all objects which lie entirely within the rectangle will be selected.
Cross window selection is very similar to Window selection but you define your selection rectangle from right to left. Objects are selected which lie entirely within the rectangle and those which cross the rectangle.
ARCHLine.XP has a whole range of more advanced object selection method which are designed to help you select just the objects you need. I describe them later in another article soon.
6. Shortcut key combinations
ARCHLine.XP has many productivity tools that you can use.
Using shortcut key combination increase your productivity. Here is the short list of the most popular shortcut keys that might interest you:
Hold [SHIFT] for temporary ortho mode
Holding the SHIFT key while you draw, will activate temporary ortho mode. It makes easy to draw precisely in main directions like horizontal, vertical and 45 degrees.
Hold [CTRL] + left click
When you select many objects for modification, select the first one then press and hold CTRL and click on the next object.
Another example: Select all walls with a right click on the wall icon and choose the "Select types command". It selects all walls in the current drawing, then with [CTRL + left click] you can remove some walls from the selection.
Distance between two objects
You can modify the distance between two objects easily. If you select the first one then press and hold CTRL and click on the next ones, you can change the distance from the first selected object.
Here you can set the walking distance between the wall and the table as 1000 mm similar to the picture below.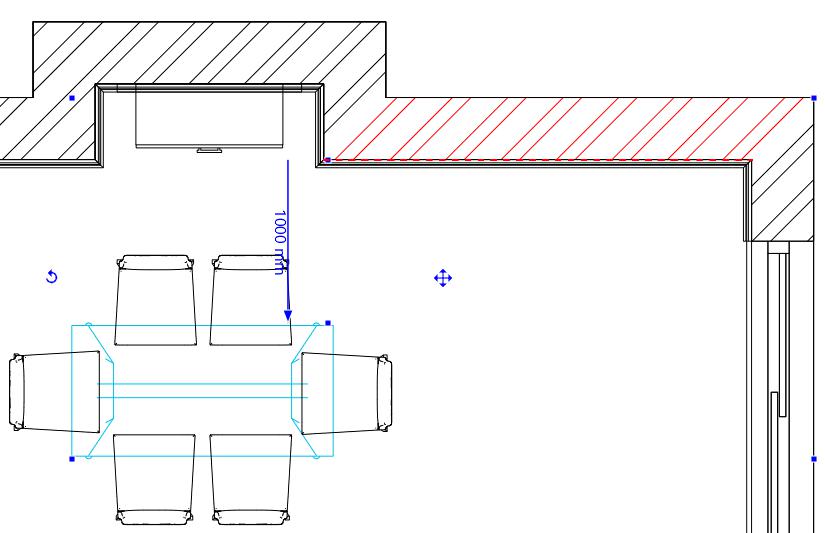 Press [TAB] in Selection
Frequent problem is to select among objects which are overlapping in the drawing. Use TAB to cycle between overlapped objects. This is how you can select overlapped object easier.
The alternative method is to open the list of overlapped objects in the pop-up menu, and click on the object you need to change.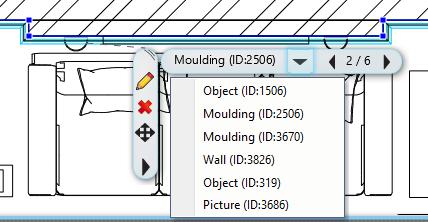 7. Survey your room
ARCHLine.XP provides solutions for importing a room in various way. If you have the floorplan in PDF or raster image format like BMP or JPG, import it and scale it to real dimensions. Then you can manage it like a transparent layer and create the walls over it.
If you can have the floor plan in DWG or DXF CAD format your life is much easier. Import it and apply the special wall design command "Walls on Dwg Drawing". You can rebuild the whole structure of your building in 5 minutes!
8. Room Maker
Whether you're scared beginner to take the first steps in CAD design or you are experienced in other software, Room Maker will help you get moving in the right direction. You will love this tool.
Room Maker is a single platform that integrates your interior design work into one easy to use 3D panel. Make your room shape first and then you can complete it with doors, windows, finishes, lights, curtains, sockets, switches, cornices, skirting boards, pictures on wall using this smart design method.
You will quickly understand the concept of each panel, and then Room Maker is the best way to make the work go by faster, minimum twice as fast as it takes in traditional 2D design.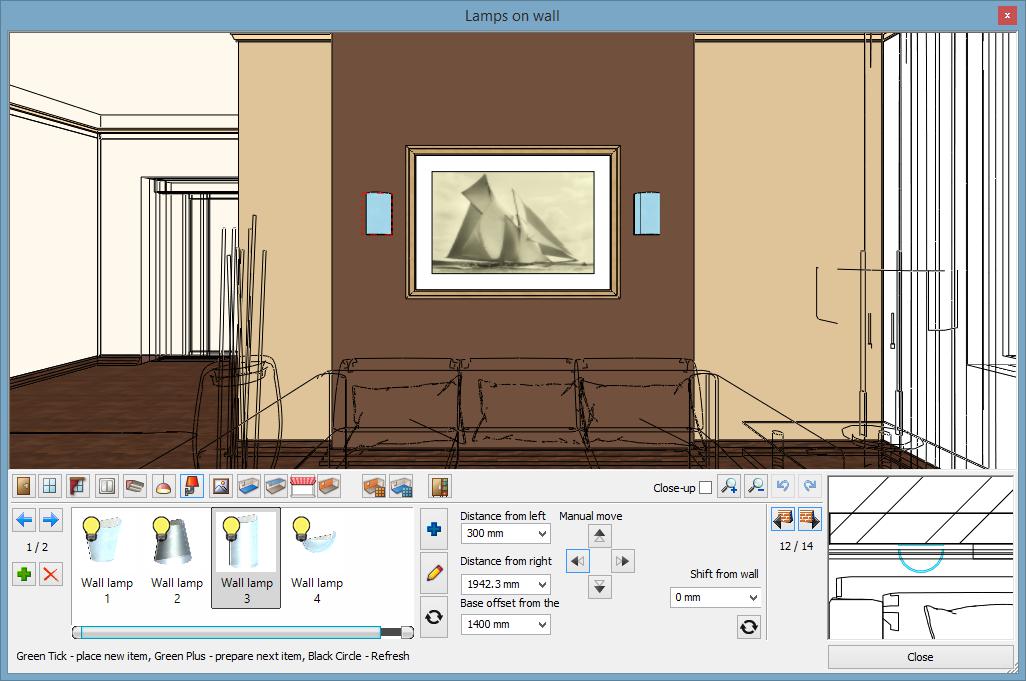 9. Browse for furniture, fabrics and wallpapers
Most of the time creating 3D models is not an easy job and very probably you'd prefer to place ready furniture from up to date catalogs. It is quite difficult to find the right 3D model but it worth to search on the Internet.
I'd recommend you to browse the following catalogs before you start creating objects to see your ideas in 3D:
The Showroom of ARCHLine.XP (rich set of fabrics, wallpapers from Farrow and Ball, Sanderson, Harlequin, Prestigious Textiles, etc.)
Trimble 3D Warehouse, the world's biggest online repository of furniture. It contains every group of furniture what is necessary for the design (e.g.: chairs, tables, kitchen-, living room-, bedroom, bathroom objects, accessories).
Many other web sites that allow downloading free of charge or by payment.
10. Take care of lighting
Lighting is a key element of the interior design. It sets the atmosphere for each room. Artificial lighting can have a major impact on the overall look of a room.
Generally the object you place as a lamp has nothing to do with light effects. If you want to see the lighting effects, you have to convert the object to lamp. It means you have to add to it one or more light sources.
ARCHLine.XP is well prepared for helping you with this conversion. When you download lamp models containing the words "lamp", "spot" or "chandelier" from 3D Warehouse, ARCHLine.XP appends automatically a light source that later you can move and change its properties.
Then your reward will be great photorealistic images.
11. Keep Practicing
You will get better and better with a lot of practice. Professional users are those, who use the software again and again. You can learn the most of it by repeating the commands.
Try to actually drawing a project. The best is to try to draw a project with purpose.
If you don't have a project yet, follow our workshops or find a sample then draw it.
Surely you will find difficulties. Don't worry, try to watch the video tutorials, read the help carefully or send a mail with your question to our support team. The solution is at your hand.
Turning into an expert is not only about knowing everything in 3D CAD/BIM Design. There is no need to learn each drawing tools. You should follow the concept and then apply the right tool for your workflow.
You can't expect to become a 3D CAD/BIM master overnight, but practice makes perfect.
Keep up the great work!
Do you want to take ARCHLine.XP for a test drive? Download a free trial here.