Meet Cyrille Chabert, an event professional who has been creating digital 3D plans and animations using the ARCHLine family for less than a year. Dive into his inspiring journey and discover how he uses the BIM software ARCHLine.XP and ARCHLine.XP LIVE!
Watch the video made with ARCHLine.XP LIVE!

Introduction of Cyrille Chabert
Cyrille Chabert began his career as a Lighting Director in theaters and operas about 30 years ago. Over time, his profession took him across France and Europe on various tours.
He developed an early interest in creating plans, which he initially drew by hand. In the late 90s, he started working with 3D software like Wysiwyg and Capture Sweden (of which he was a beta tester), enabling real-time image rendering to prepare for events.
His work mainly involved projecting lights based on natural light, stage assembly plans, all while meeting the requirements of the show.
As time passed and his experience grew, his professional peers were impressed with his ability to handle plans in addition to the lighting aspect. Over 30 years ago, very few people were using computer-generated plans, and it took a lot of time for results that weren't optimal!
He quickly developed an interest in computer-aided plan design, recognizing the tool's potential for efficient results and the ability to make changes at any time to achieve precise final documents.
From Lighting Director to Technical Director
For about fifteen years, while still involved in set and lighting design, Mr. Chabert worked as a Technical Director, organizing assembly plans and working for various theaters in Paris and elsewhere, depending on the needs and tours.
He was also involved in technical direction services. Today, as a freelancer in the south of France, he works in event management.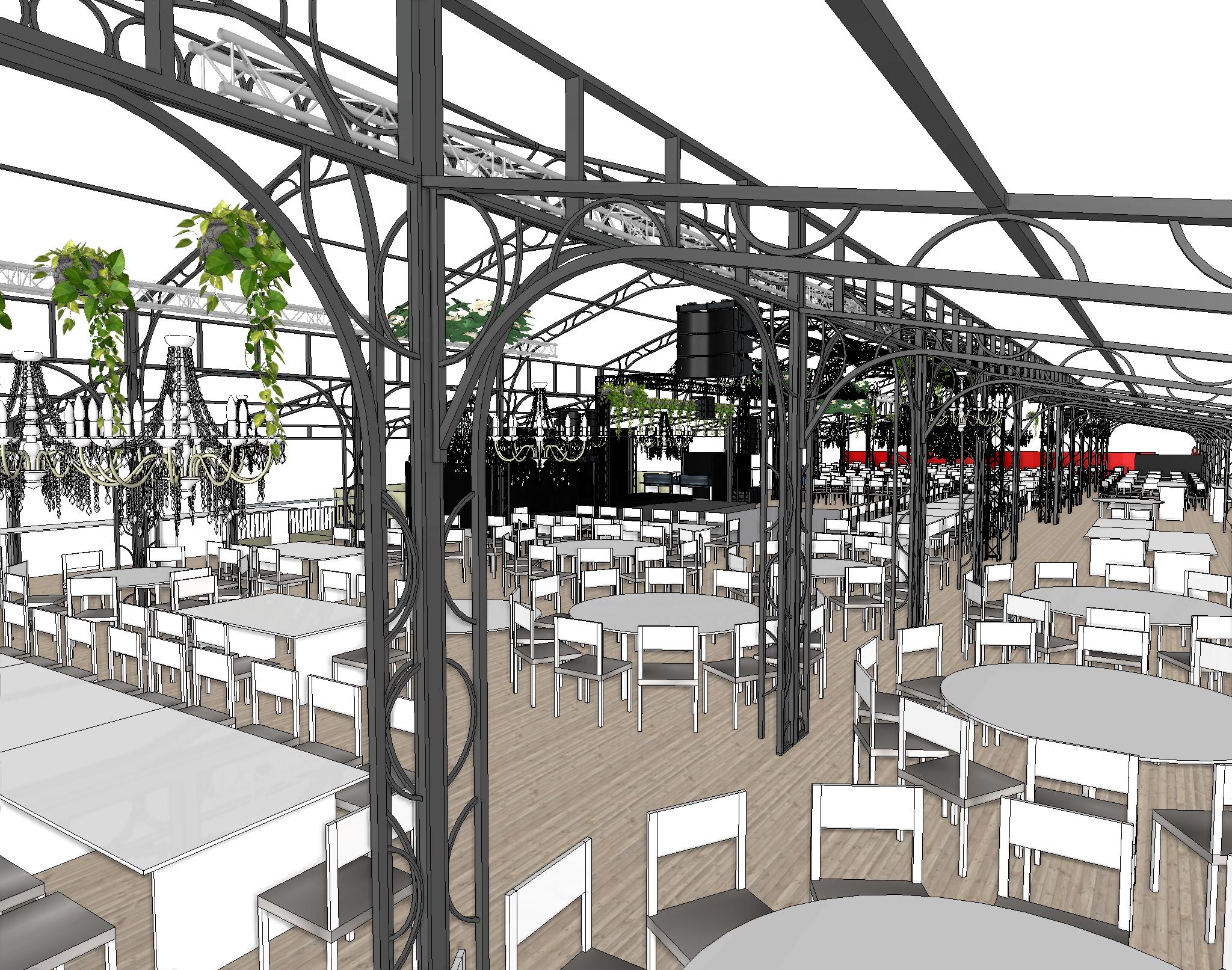 Capture of Cyrille Chabert's "international wedding" project with ARCHLine.XP Lite
He has recently worked on projects for weddings, including an international wedding with a significant budget.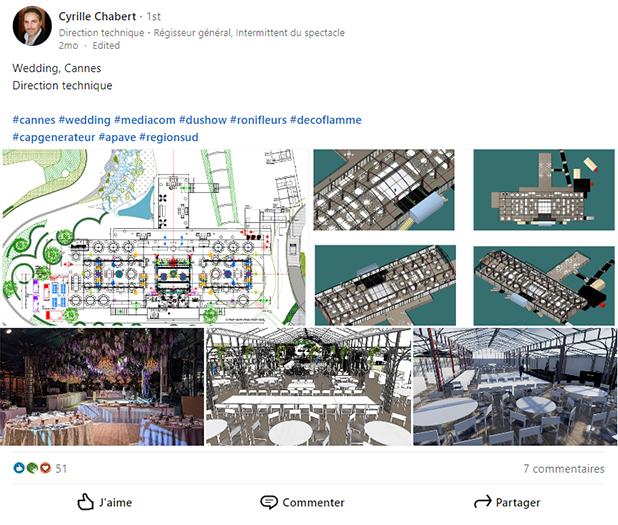 His main activity, however, is more focused on corporate events (conventions, seminars, etc.), both for foreign companies and private events. He is regularly sought after by production companies to manage the technical aspects of events.
Using ARCHLine.XP and ARCHLine.XP LIVE for just under a year, we interviewed Cyrille Chabert, who, without formal training, creates stunning projects. You will find his insights on these software tools, as well as some of his accomplishments!
To begin, what are the constraints of your activity?
"The first constraint for me was to be able to read and import DWG files, in order to exchange with different stakeholders of the project.
I wasn't entirely satisfied with AutoCAD® because I wanted to be able to draw directly in 3D to avoid the need for extrusion, adding material, etc.
Next, I also have a constraint of speed:
For example, I might be asked to make a presentation without going into details for the next day to see if the project or idea is feasible on the field... In such cases, I can make proposals quite quickly!
Another point is that once the project progresses, modifications sometimes need to be done quickly in terms of layout or presentation."
Do you use the lighting management features in ARCHLine.XP and ARCHLine.XP LIVE?
"Yes, absolutely, in fact, I had created and shared a video on LinkedIn for a project in the Principality of Monaco. I set it in real-time, starting at 6:30 PM, which corresponded to the actual outdoor lighting, and then in the video, we follow the nightfall with more interesting lighting renders than in broad daylight.
Since I come from the lighting field, it's something I'm quite sensitive about, both in terms of execution and especially feasibility. With lighting, we can sometimes do anything and be creative, but it's not always technically achievable.
Through this video, I worked in real-time with hardware constraints, RGB constraints, and LED constraints. It was a pleasant surprise for me because ARCHLine isn't specifically designed for lighting, but the result was very nice and realistic.
After working a little bit on ARCHLine.XP LIVE with a project exported from ARCHLine.XP Lite, the result worked extremely well, and it was close to reality! It's truly a guarantee of success and safety: you're selling something achievable!"
How did ARCHLine and LIVE meet your needs?
"The software easily met my needs in executing drawings, simply with the compatibility of file import and export. This allows me to work directly in 3D. Most of the time, I use simple DWG files on which I import my tools and libraries to place elements in the scene.
I saved time on creating the model only once and saved time on setting the scene with ARCHLine.XP Lite.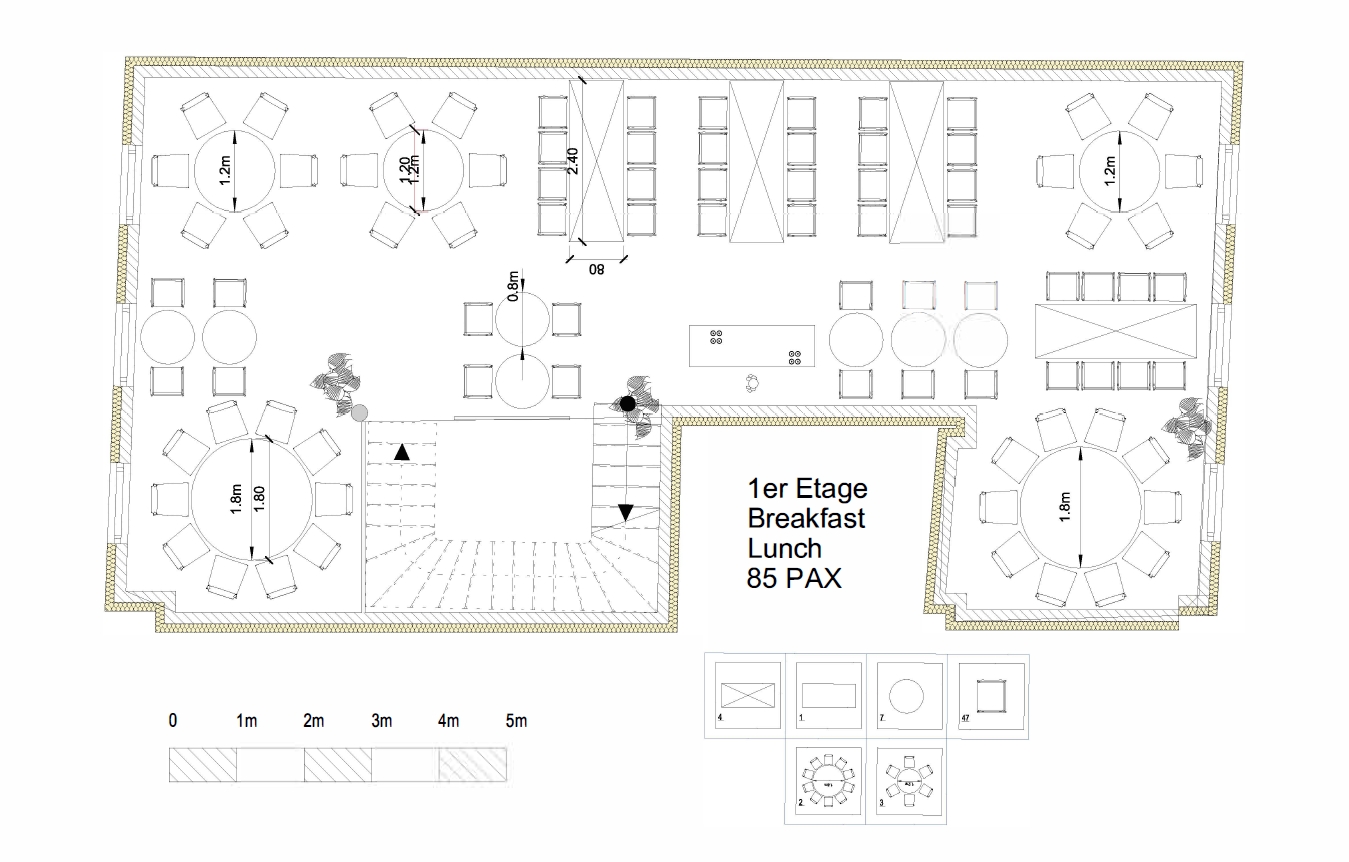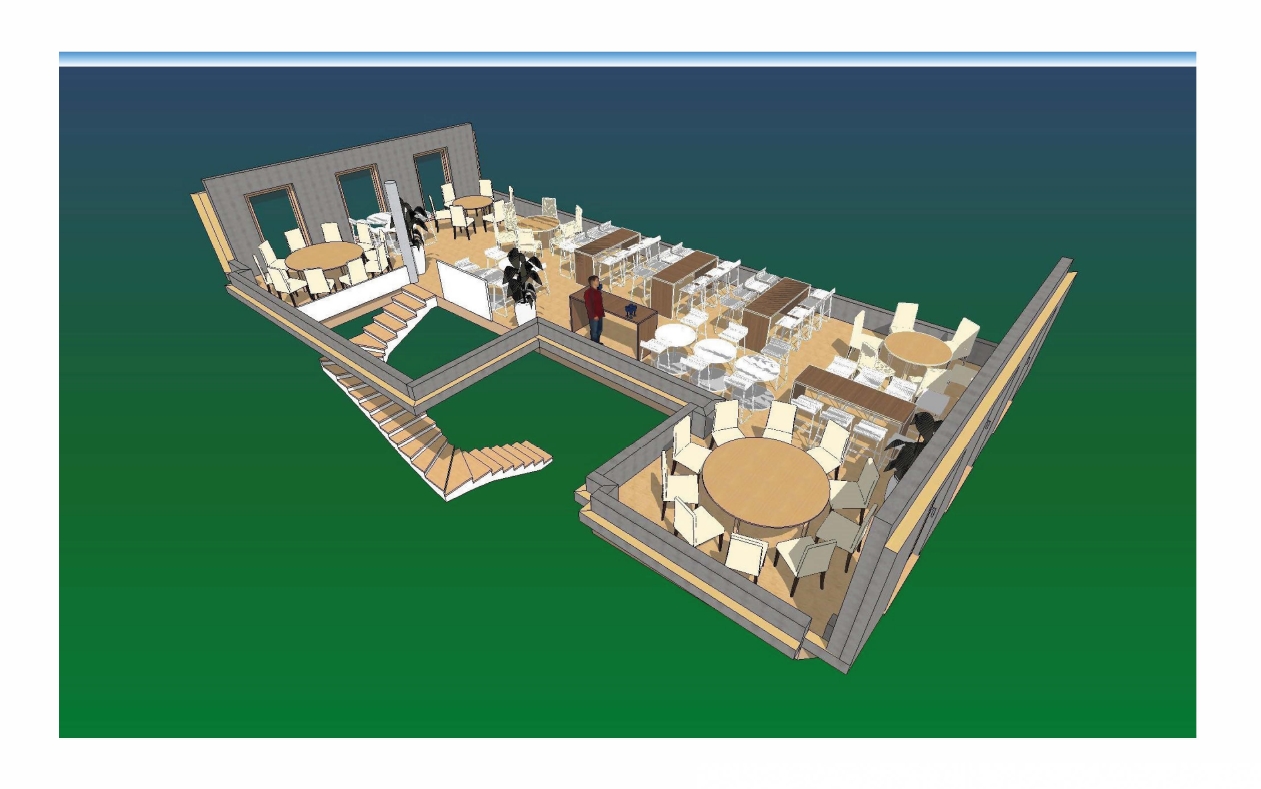 Project "reception room" by Cyrille Chabert with ARCHLine.XP Lite
Then, if the client wants to have a more realistic view of the project with a 3D rendering, possible circulation, the environment... I use ARCHLine.XP LIVE. But it's not automatic because it requires more time and effort.
Previously, I had three steps: 2D, 3D, and 3D with materials, but now I have only one or two steps with direct 3D drawing, which allows me to export images and 3D plans. Then, depending on the client's needs, I can provide images or a video with ARCHLine.XP LIVE. The representation in LIVE sometimes helps to make a decision."
How does the transition from ARCHLine.XP to ARCHLine.XP LIVE go during your projects?
"It works well! As with all drawings, precision is necessary. The spotlights I use are taken from a BIM library. Through ARCHLine.XP LIVE, I adjust their power, intensity, and colorimetry, working with warm and cold whites... So, it's important to be quite precise in your work to achieve the desired result."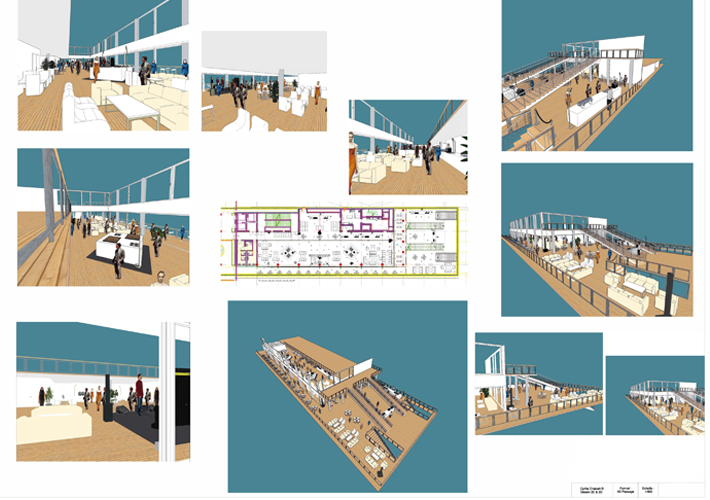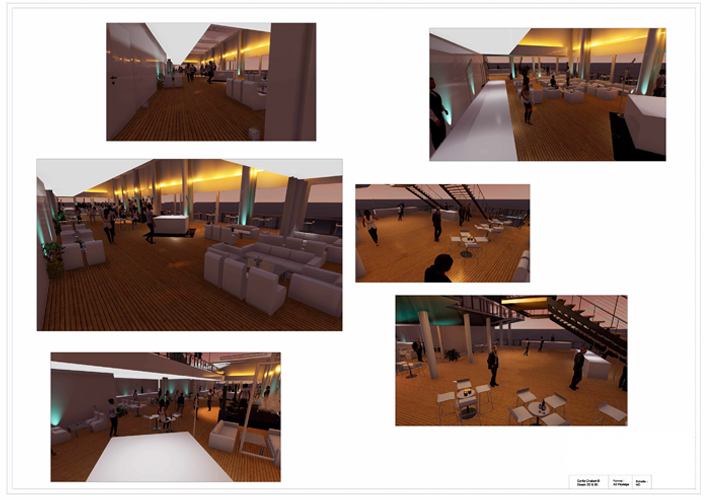 Screenshots of a project with ARCHLine.XP LITE and ARCHLine.XP LIVE
Do you use any other tools or software?
"I use BIM libraries from SketchUp® as I focus on the overall design rather than drawing individual items like tables or chairs. So, I take models that I can then modify in ARCHLine by changing their size, position, texture... It must be acknowledged that it's very practical. This is one of the reasons that led me to ARCHLine!
Initially, I tried ZWCAD, but after discussing with you, you directed me towards ARCHLine for my needs and usage. Today, I use ARCHLine 90% of the time and occasionally some elements from SketchUp®. I have fully embraced ARCHLine and I try to stick with it and find optimizations for my designs!"
What are your favorite features in ARCHLine?
"In ARCHLine.XP, I like everything overall. However, I'm a bit different because ARCHLine.XP has tools available for construction and architects, which is not my field.
I adapted ARCHLine to make the best use of it for my event planning needs.
I often try to use features in a different way to suit my purposes. What's interesting is being able to use software with a common foundation and apply it to a sector that is not particularly well-equipped with suitable software."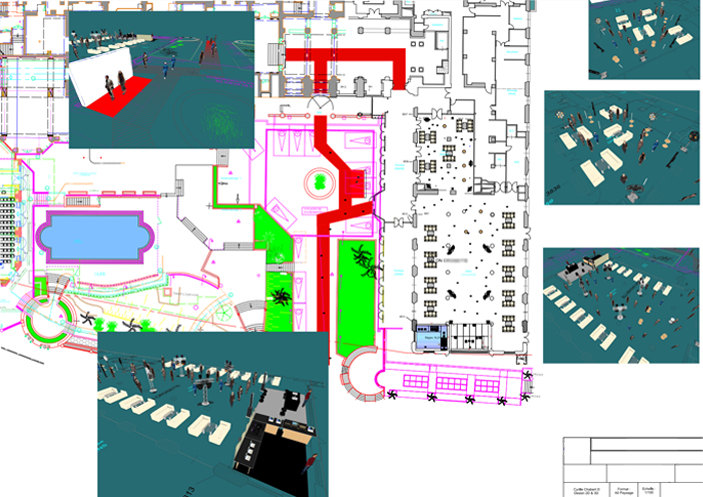 Event project by Cyrille Chabert with ARCHLine Lite
"Now, to answer in more detail about my favorite features, there are quite a few! For example, being able to quickly and easily establish a construction based on a PDF, extrude, create walls... It's both easy and fast!
Another strong point of ARCHLine is its scale management when making paper outputs. I find it to be a struggle with several software, starting with AutoCAD®. Once you understand what's happening, it's fine, but in the beginning, it can be confusing. With ARCHLine, we are at a scale of 1, and then we can generate different scales according to the paper sizes. It's simple and there's no risk of error.
Overall, what I would highlight is the speed and ease of implementation."
Same question about ARCHLine LIVE?
"ARCHLine.XP LIVE, I consider it a bit like a toy, a space where one can have fun and enter the real world! Managing lights is really fascinating to me, and the software deserves to continue its journey through improvements.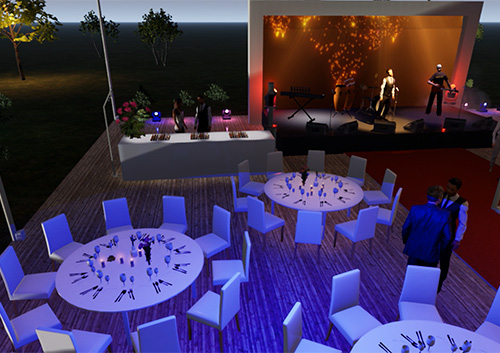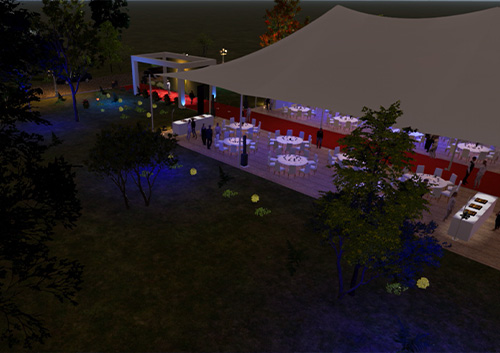 Cyrille Chabert's "prize award" project with ARCHLine LIVE
We also have all the little tools to create images, or tools to make timelapse in real-life situations.
What's great about LIVE is that you're not overwhelmed with features and sub-menus; things are done simply, especially considering that I am self-taught on your software. You can easily figure things out in a few hours and create very enjoyable visuals!
Finally, there's something impressive about ARCHLine.XP LIVE: you can import screens and televisions in which you can also add multimedia content that runs!"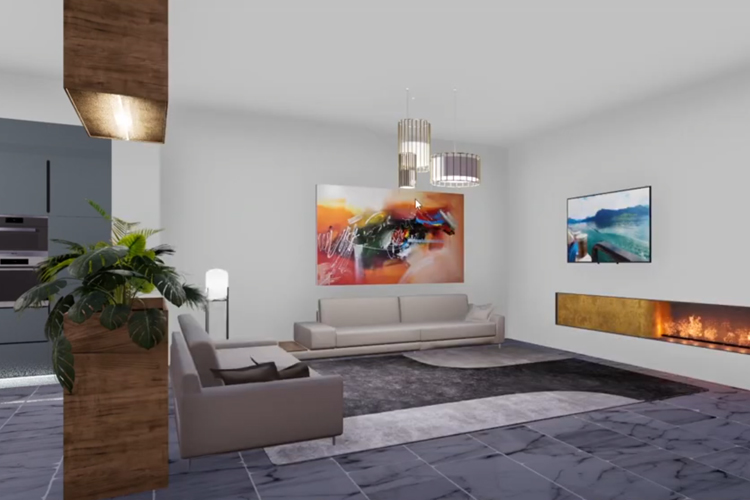 ARCHLine.XP LIVE project with an image (painting) and an integrated video in the materials (TV).
Source: CADLINE, publisher of ARCHLine.XP and ARCHLine.XP LIVE.
"When you have the client's logos, advertising signs, and suddenly you render in real-time their event by incorporating elements that touch and concern them directly, it's quite impressive!"
How did you learn to use ARCHLine without formal training?
"I started by following tutorials and ZW France live streams on Youtube, which were quite enjoyable and allowed me to get to know you. Then, I relied on my experience and various past trainings, like with AutoCAD®. I don't exclude the possibility of taking targeted training in the future. I also regularly visit the channel."
What is your overall opinion of ARCHLine.XP and LIVE?
"I think today it is the software that suits me. Through the execution of 2D DWG drawings and the ability to enrich and draw in 3D.
On this point, I am really satisfied with what I have chosen, as I am a new user, barely for a year. Nonetheless, when you make a software choice, whether it's SketchUP®, AutoCAD®, ARCHLine.XP... it is a financial investment and then a time investment, so the idea is not to make too many mistakes and avoid going back.
I can tell you today that I did not make a mistake; it fulfills my needs and allows me to work in very pleasant conditions. The plans are really neat and enjoyable."
Why choose ARCHLine.XP instead of SketchUp®?
"We all know SketchUp®, and we can all do things by watching tutorials, but my foundation remains in the plan. In SketchUp®, we create a cube, a window, add glass... without belittling SketchUp® as it is a powerful tool, it just wasn't the right tool for me. I needed software that could provide me with plans with 3D advancements."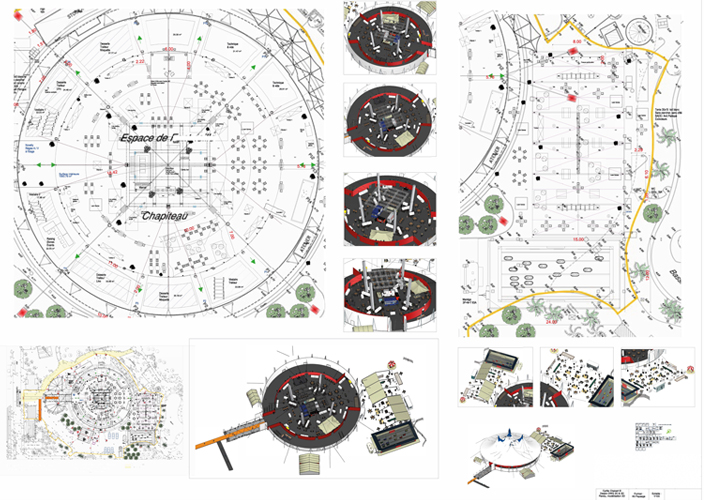 Event Project "Chapiteau" by Cyrille Chabert
What do you think about the perpetual license?
"I am all for the perpetual license! We live in a time where everything is on a subscription basis, but with a perpetual license, I have no worries; it will keep working. It puts me in compliance with my rights and usage, and that's reassuring.
I paid close attention to this because I can work without worrying about renewals. In the future, I can upgrade either ARCHLine.XP or ARCHLine.XP LIVE. That's also why I made my choice. If I see interesting features for me in the new version, I'll go in that direction; otherwise, I'll update in 1 or 2 years. Nothing is fixed, and that's very pleasant.
Budget-wise, ARCHLine is very reasonable, especially since I'm a freelancer. I started with the Lite version, but nothing prevents me from upgrading to the Pro version in the future."
Would you recommend using ARCHLine.XP for event professionals?
"Yes, and I already do! My drawings spark curiosity. I sometimes meet AutoCAD® users who then move on to using Revit® or doing staging or rendering through 3DS Max®, and that takes time and money.
So, I have been quickly asked about my tools and talked a lot about them. I received very positive feedback!
Initially, I recommend ARCHLine.XP, and then ARCHLine.XP LIVE for agencies, as it's more suitable for them than for an independent worker, and their usage is different."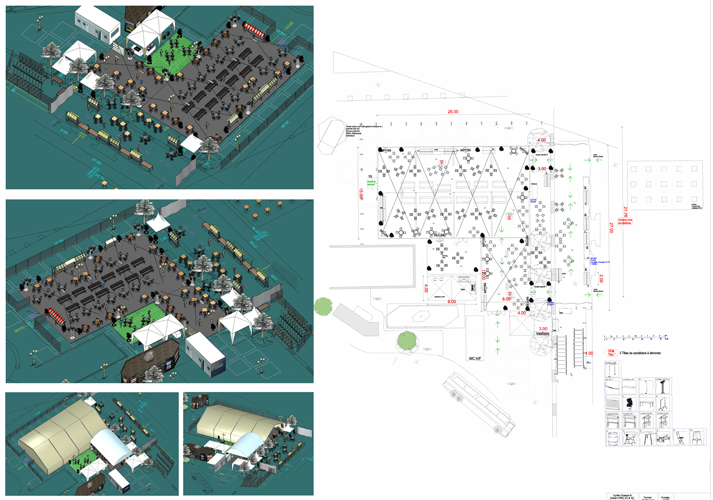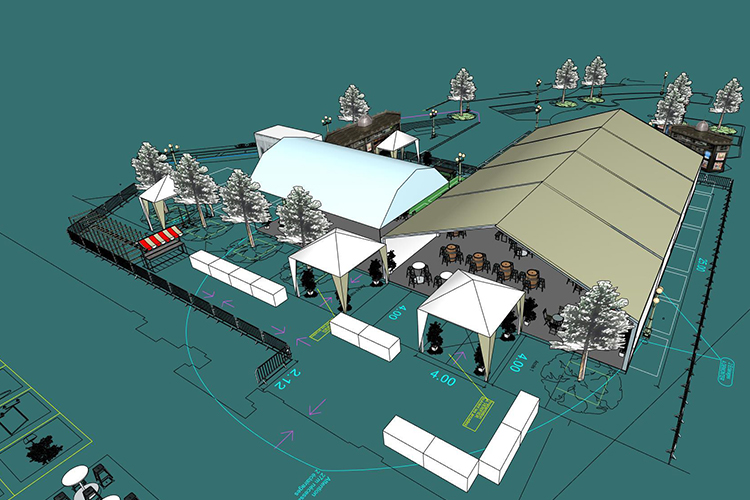 Outdoor event project by Cyrille Chabert
In conclusion, what can we wish for you?
"To continue this experience with the precision that only a technician can bring and to enchant production teams with 3D, materials, videos... and make sure the projects get signed!
Lastly, we can wish that this journey, which has only just begun, continues in the execution and realization of both simple and complex projects! May things continue in this direction, and may everyone find their happiness!"
Follow Cyrille Chabert's updates on Linkedin
Download ARCHLine and ARCHLine LIVE
Originally published in French by ZWFrance. Read the article
here
.