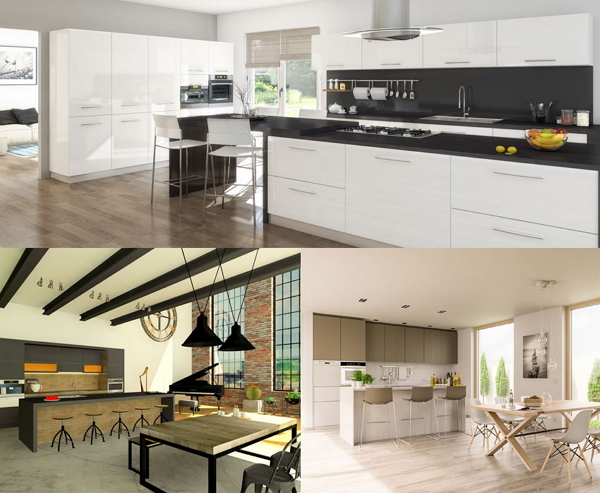 Every kitchen is unique and designing unique kitchen requires a lot of tools. Using ARCHLine.XP CAD / BIM interior design software, the entire kitchen, including the kitchen cabinet, can be quickly and efficiently designed. The efficiency of the kitchen cabinet can be realized in the knowledge of the available space, so the kitchen design includes the tiling, the lighting, the accessories and even the curtain design. You can choose between ready-made catalogue items and design custom furniture with precise dimensions.
Using the catalogue items, you can create the complete kitchen cabinet with base, wall and high cabinets, drawer units, countertops, sinks and accessories. The list of catalogue items can be freely expanded with the downloaded furniture from online repositories.
The Kitchen Designer Tool is open, which makes it possible to design individual corpuses, furniture door fronts and furniture families. To create a parametric, perfectly aligned family of furniture, it is sufficient to design one member of a furniture family. For example, if you change the width only you can create the new elements of a 30, 45, 60 cm wide drawer unit family. Special furniture as kitchen island, wine storage, individual storages and curved elements can be inserted into the kitchen.
The design can be completely customized not only in size, but in style and material. It's easy to try different variations so finding the best version is quick and easy. Parametric kitchen cabinets can be displayed in open, semi-open, and closed doors, and front, without doors helping detect possible door collisions. ARCHLine.XP's Kitchen Designer is a user-friendly tool that allows intuitive design. Changes are immediately displayed and you can make choices from several variations when creating a kitchen. Like the similar functions of the program, the Kitchen Designer has been designed to allow you to experience the use of the device in minutes, who has never worked with it yet, and will discover more and more opportunities later on.
ARCHLine.XP offers a wide range of visual designs. You can create photo-realistic images, animated movies, or virtual panorama 360. Using VR glasses, we can go to virtual reality where everything is as if it were a reality, as though we were living in the ready-made kitchen.
Different wall views, lists, furniture sheet worksheets are important elements of kitchen design - these can also be created with the utmost precision with ARCHLine.XP's tools.