This is a handy guide on how to use your existing design skills when working with ARCHLine.XP. Even if you are a CAD novice, it's worth a read, so that you would know what the differences/similarities are between software products. Today's topic: tips and tricks for SketchUp users.
Key differences between ARCHLine.XP® and SketchUp®:

The Focus
ARCHLine.XP for Professional Designers
ARCHLine.XP is a BIM design software, which is fine tuned for architectural-, interior design and furniture manufacture – it's one software, with all relevant features included for these professions exactly, with a built-in rendering engine. It comes with the traditional designing style where you expect to build physical structure such as walls, doors, windows, stairs, roofs, etc.
SketchUp for the initial stages of design
SketchUp, on the other hand, is an all-purpose, intuitive 3D modeling tool with numerous add-ons and extensions to narrow its focus onto a certain profession (architecture, interior design, etc.). It is for quick early models where using outlines and features like push and pool tool help you build walls without architectural meaning.

The Method
Sketchup focuses on 3D model that doesn't necessarily match the construction documents as floor plans. This approach is advantageous for early models but might be difficult to make the necessary changes without compromising building standards and accuracy.

ARCHLine.XP's built-in central database contains all data to prepare the construction documents as floor plans, 3D views and sections/elevations at the same time.
In ARCHLine.XP you might place the 3D model directly just as in SketchUp, but in the project you save the properties of the wall to get the desired shape and size you want to create the 3D model anytime.
There are further differences between the software products, regarding how the generated 3D models are designated and handled. How these differences affect the outcome depends on what you want to achieve - more on this under "differences in drawing methods".

The BIM Workflow
In ARCHLine.XP we create a central (BIM) model, from which all calculations, estimates, quantity take-offs, sections, elevations are originated. SketchUp has features to equip models with the necessary data, but if we need to work with computable BIM models, there are additional extensions for this purpose - BIMup for SketchUp, for working with BIM parameters, and Trimble Connect for handling BIM models within a project, for instance.
Let's now look at the ARCHLine.XP features, and break them down one by one to see where the further similarities/differences lie.
Interface and Navigation
There are considerable similarities regarding interface and navigation between ARCHLine.XP and SketchUp, as they both follow CAD or modelling standards. The most commonly used tools are to be found on the toolbar (ARCHLine.XP groups its features into a ribbon bar), and there are additional elements (trays, grids, etc.), which you can pin to your workspace to easily find what you need.

Interface similarities/differences
| | | |
| --- | --- | --- |
| | SketchUp | ARCHLine.XP |
| Workspace appearance | A general-purpose 3D view, where you do most of your work | 2D+3D view combined, with optional further views (sections, elevations, etc.) |
| Model view | Perspective by default (with other projections as optional) | Axonometric by default (with perspective as optional) |
| Managing textures, content | A variety of "trays", where additional design elements are stored | Design Center for managing objects and textures, Property Grid for BIM parameters |
The interface differences are due to ARCHLine.XP being targeted at 3 specific industries at once (architecture, interior- and furniture design), which all demand some specialized tools.
Navigation similarities/differences
| | | |
| --- | --- | --- |
| | SketchUp | ARCHLine.XP |
| pan | hold shift+scroll | hold scroll |
| orbit | hold scroll | hold shift+scroll |
| hotkeys, shortcuts | supported | supported |
| 2-way model selector | supported | supported |

Differences in drawing methods
With SketchUp, we start working by drawing 2D polygons, which we can extrude/offset/slice, then combine components until we form a desired shape. The program does not automatically differentiate the generated shapes and models by their role or by any other aspect or logical division. This would come later, and is done manually, by creating components and groups, and using Classifiers to designate the properties and roles. If such additional manual processing is not done - either within the program itself, or via extensions - then whether a certain solid is a wall or a piece of furniture is a matter of how the model appears.
In ARCHLine.XP, on the other hand, we start drawing by picking a building element we are about to create, which will come with pre-defined roles. We choose from ready-made compound walls, defined slabs, openings, furniture fronts, etc. There are pre-defined styles for every element, and we are free to create further styles, if needed. The software thinks in roles – it has designated tools targeted for specific tasks. For instance, the Furniture Maker allows to create intelligent, parametric cabinetry elements (see image), the tiling tool does tile consignation, roof panels can be edited individually, etc.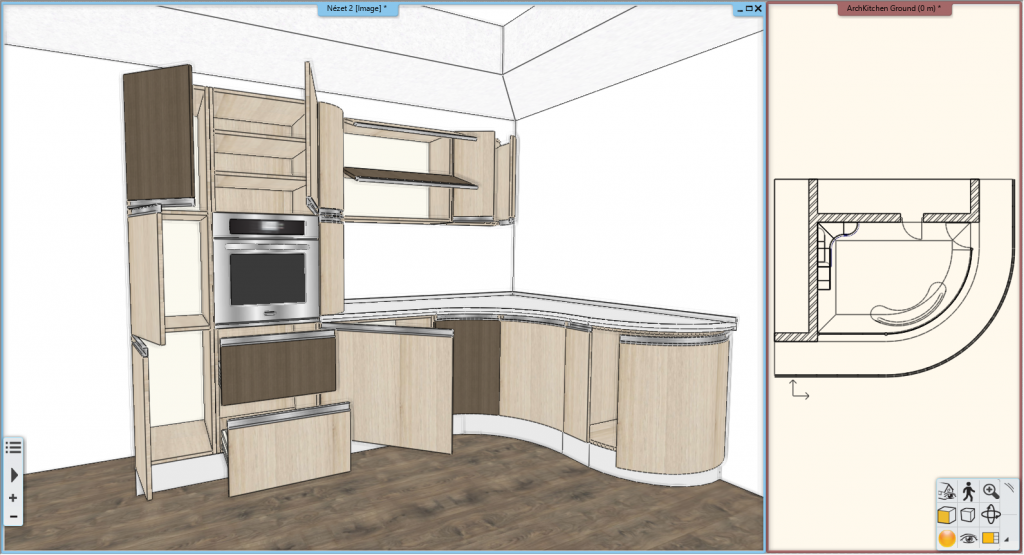 The parametric ARCHLine.XP furniture have the necessary flexibility and parameters needed for the demonstration of would-be functions
Documentation: scheduling and sections
The distinction between the two drawing methods (i.e. SketchUp's drawing first, and not designating a role automatically vs. ARCHLine.XP's automatically designating a role first, and then drawing) becomes relevant, when we want to retrieve scheduling, BIM information, quantity take-offs or any other data from our model.
ARCHLine.XP does this natively, as the models it draws are inherently equipped with the necessary information, with the possibility to add further properties, which will be pushed into listings, schedules and take-offs. In SketchUp, we are able to equip our Groups and Components with data fields and Attributes, and, provided that we have the right Template setup, also add some IFC data, too. However, if we want to generate reports in a customizable format, fitting a specific industry, we should, again, rely on additional plugins such as the aforementioned BIMup for SketchUp, Estimator, or Profile Builder 2.
The same applies to sections and elevations: SketchUp offers tools to get linework out of our models. If, however, we need architectural CAD drawings with hatches, we would, again, need to rely on extensions - Skalp, comes to mind as a fine example. ARCHLine.XP, on the other hand uses a central 3D model, from which all sections, elevations, wall views are originated within the software, either as textured images, or as CAD line drawings, staying in living connection with the model.

Similarities in drawing methods
When it comes to creating 3D objects, the below ARCHLine.XP features follow similar methods as SketchUp.
Push/pull with profile definition – allows to select a surface, draw a polygon onto it, and push it inward or outward.
Extrude – allows to draw a polygon in the 3D space, and extrude it in any direction
Freeform surfaces - having placed a 2D polygon, we are able to distort the shape, move any arbitrary point of the shape into any direction, and give it gravitational simulation. It can be used to create canopies, roof panels, etc.
Solids of revolution - designing a 2D shape, which will be turned into a 3D body via its axis. It can be used to create balusters
A glimpse at some of the 3D tools of ARCHLine.XP for creating a parametric baluster
Modifying 3D bodies – alt+click on the body to select its contour lines for further edit (adding bends, nodes, etc.)
Handling objects - create components and objects from smaller elements, making it easier to build up sophisticated models. The models can be exploded back to their original parts.
Importing SketchUp data

Importing from SketchUp
ARCHLine.XP is able to import .SKP files, SketchUp's own file format. Once imported, the models, and textures will be added to ARCHLine.XP's own Design Center for later use. The model can be exploded via the Edit/Modify/Explode feature for processing.

Importing from the 3D Warehouse
ARCHLine.XP also connects – among other external libraries – to the 3D Warehouse. This allows user-generated 3D models to be pulled directly into an ARCHLine.XP model. The program warns you when you want to download an object from the 3D Warehouse, which might disrupt your design (they are too large in size, they have too many surfaces, etc.)
Exporting into SketchUp

Via the .SKP® file format
ARCHLine.XP models can be saved into an .SKP file, which then can be read back into SketchUp. The model arrives at SketchUp with its geometry and textures (which can be found in the Materials tab under "In Model"), and with its layer structure intact. However, its BIM data will not be included, as at the time of writing this article, the .SKP format is unable to handle such data.

Via the .IFC file format
Another channel of communication can be ARCHLine.XP's certified .IFC export format, which will carry the model's geometry, information and layers to SketchUp. .IFC, however, is inherently unable to communicate and carry the textures with itself.
Shared export formats
There is a considerable overlap between the file formats ARCHLine.XP and SketchUp exports into. Both software supports the following 3D model outputs: .3DS™, .DWG™, .DXF, .FBX®, .IFC, .KMZ, .OBJ, .STL, .WRL
Some of these file formats can be used to import the model into rendering engines, or visualization tools. This highlights that both SketchUp and ARCHLine.XP are able to integrate with a wealth of other software products, which is necessary, as more often than not, we use multiple software products for certain design tasks.
Rendering
When it comes to creating a rendered image out of our SketchUp model, we can rely on external products, such as Vray or any software, which is able to import the above file formats. ARCHLine.XP, on the other hand, has a built-in rendering engine, with which we can model and get a glimpse at the final product in the same environment. Although the ARCHLine.XP renderer is able to create photorealistic visuals on its own, it can also connect to other 3rd party renderers, as pointed out above.
Conclusion
There is a high level of interoperability and data transfer features between ARCHLine.XP and SketchUp. This means that:
Using ARCHLine.XP you can access the 3D Warehouse, where you can tap onto the wealth of 3D models other modellers have prepared
You can import your 3D models made in SketchUp straight into ARCHLine.XP. This means that you can capitalize on your existing SketchUp-made data
Also, you are able to export your ARCHLine.XP building model back to SketchUp, in order to detail your project further, or use SketchUp tools that might be better suited for a specific task
There is one crucial difference, however, between the two programs. SketchUp draws generic 3D models, while ARCHLine.XP works with building elements. This difference becomes relevant, when you are looking to create quantity take-offs, estimates, or you want to incorporate BIM into your workflow. SketchUp can tackle with these challenges to some extent on its own, or relies on various add-ons and plugins to complete the task. This does not mean that architecture-related tasks can only be done with ARCHLine.XP. Instead, we see that the two programs could complement each other, and if needed, we may use both for the tasks in which they are stronger.
Having SketchUp skills helps you a great deal when you start working with ARCHLine.XP, as there are similarities in how you'll navigate in the 3D space, or how you'll handle 3D models. However, prior SketchUp knowledge is not a requirement. Thanks to the large amount of tutorials and webinars, you can quickly turn ARCHLine.XP into a powerful tool, either you will use it alongside, or instead of SketchUp.
Find out more about what ARCHLine.XP offers.
SketchUp® is a trademark owned by Trimble Navigation Limited, USA
Autodesk® 3ds Max®, DWG, FBX®, are registered trademarks or trademarks of Autodesk, Inc., and/or its subsidiaries and/or affiliates in the USA and other countries