Interior
Design
Thesis
by
Ms
Katalin
Zalán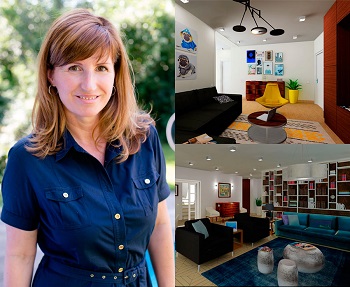 Ms Katalin Zalán, who graduated from Junior Art Center, talks about her successful Interior Design Thesis:
I graduated this year from Junior Art Center majoring in Interior Design and Interior Decorator. My thesis was created with ARCHLine.XP Design software. As a result of 2 months of intensive learning and practise I made the whole documentation, the layout and the 3D model with this program. My visualisations created with ARCHLine.XP really make the choice easier for my customers. The graduation task was the spatial organization and furnishing of a two-storey family house. Everyone got a fictional family model with definite needs, expectations and funding conditions."
My family wanted an elegant, intimate home. Beside the classical bourgeois style the functionality and freshness define the atmosphere of the rooms. The renovation began with the reassessment of the spaces. The living room and the dining room was placed in the same living area yet the different functions separate visibly. The kitchen got place beside the dining room with a pantry. Beside the built-in kitchen cabinet there is a unique buffet cabinet designed by me. The main colours of the ground floor are the favourite colours of the housewife – different hues of blue and green – which are highlighted by the oak coloured cassette floor, the white walls and the inherited oil paintings. .
I placed the kids' bedroom on the first floor. The big wardrobes and bookshelves fit in comfortably to the room of the 14 year-old teenager boy. I used a lot wood and graphite grey, I broke the masculine colours with water blue striped wall cover. The room of the 10 year-old girl is characterized by the different hues of yellow and blue, it was important that there would be enough space for playing and dancing. There is a living room on the first floor as well where the children could play and chill. From the bedroom of the parents you could get out to the balcony directly, the combined sauna-shower placed in their bathroom, the two different washbasins, the WC and the bidet complete their relaxation. I tried to continue the colour atmosphere of the ground floor on the first floor but in a more modern, youthful understanding. .
Contact details:
Ms Katalin Zalán
Email:
Phone: +36-70-334-1024