Industrial
Design
Loft
-
Deigner
Ms
Berta
Fias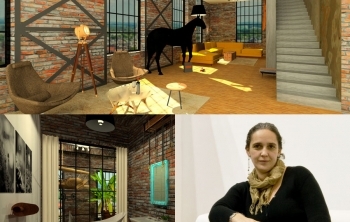 Ms Berta Fias shared some background information about her favourite project.
"The plans were tailored to middle-aged artist couple who live busy social life. This project was nothing else but basically turn an empty industrial hall into a living space."
The main concept was to create a huge open space. On the ground floor a big unit was created for the entry hall, bathroom, utility room, and built-in wardrobe. Here we placed the kitchen-diner as well.
The 8-meter height hall was broken with a loft, which size is 172 sq. Here we planned a library, which is optically open, a glass wall separated bedroom and en suite bathroom, also a closed section for guest rooms and bathroom. The architectural environment has a significant impact on the atmosphere inside. We created a style to harmonize with this characteristic and mixed up by the industrial, modern and rustic aspects. Mostly we combined old wooden surfaces with rusty, copper and black metal. The floor was covered with industrial wooden floor in the living room, the rest is polished concrete. To warm up the living area we used textiles in brown and mustard colours.
The plans were made in ARCHLine.XP CAD/BIM Design software.
Contacts:
Fias Berta - LuiSpirit Art Kft.
interior designer
web: www.luispirit.hu