Minimalist
style
Interior
Design
Thesis
by
Ms
Judit
Juhász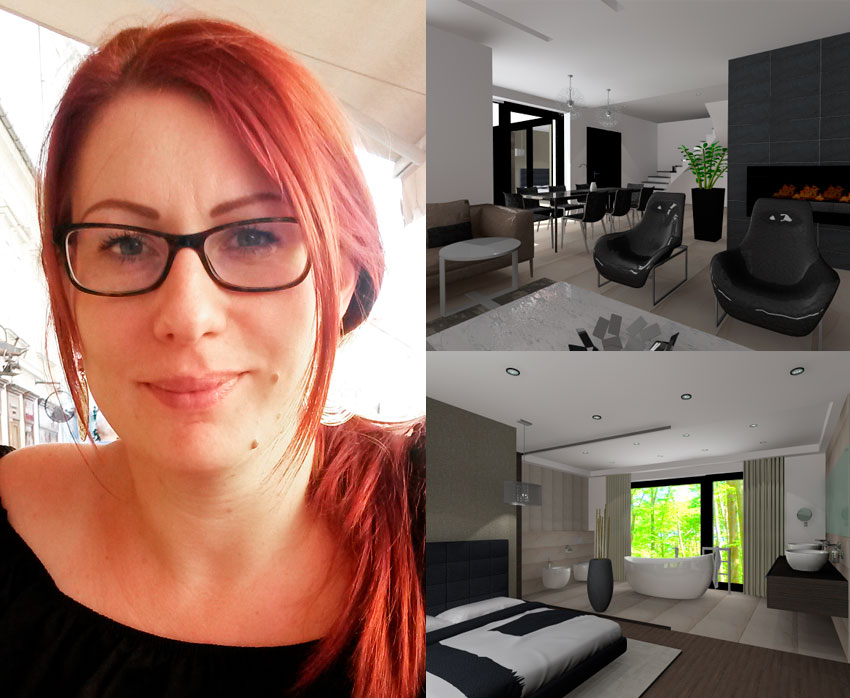 Ms Judit Juhász who graduated from Simultan Art School talks about her graduation project:
I graduated this year from Simultan Art School majoring in Interior Design. I used ARCHLine.XP for my Interior Design Thesis. My graduation task was the whole renovation of a two storey family house in minimalist style, according to the needs of the given family model. I was really happy with my task because it is one of my favourite style.
The owner was a married couple around 40, the wife is a teacher, the husband is a lawyer, and they don't have children. My task was to plan the house so that there would be place for a busy law firm for the husband. Furthermore managing the living room, the dining room and the kitchen as one, determining the interior space with modern but not high-tech elements and using high-standard but traditional materials.

To establish the unified space several walls were demolished, creating the common space for the kitchen, the dining room and the living room. In this new space I used colours which mostly specify the style: white, black, grey and pale pastel. When it came to materials I mixed natural and artificial materials which are in perfect harmony with each other.


I thought that the most exciting task of my graduation project was the establishment of the relax zone in such a way that the bedroom, the bathroom and the wardrobe were in one room. Since this interior design style is characterized by a lot of natural light I used the big windows of the room and I separated the spaces with glass walls. The bedroom is dominated by simple elegance and the airy placement of furniture, the materials mostly consists of wooden surfaces, aluminium, brushed stainless steel, stone and transparent coloured glass. I used a simple but high-standard tile in the bathroom, the stress is on the sanitary lines. I chose linen and canvas-like materials. In the cellar, instead of a garage the husband's busy law firm got place.
Contact details:
Ms Judit Juhász
Email:
Phone: +36-70-775-1940