Splendid
family
house
in
suburb
–
Designer:
Ms
Eva
Ferenczi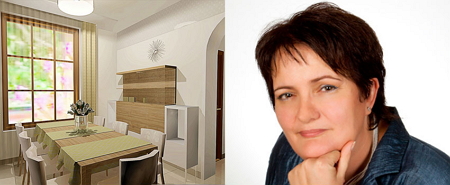 Interior design from inspiring photos until the beginning of construction and more…..
"At the end of last year I was asked to design the interior of a family house in the suburbs."
The task: Complete renovation of a two level house, to make the interior design plans and co-ordinate the reconstruction works.
Using a few architectural changes and exclusive interior design solutions to deliver a new eye-catching home with delicate and exquisite furnishing/decoration.
Demands:
Modern, fresh ambiance
Turn garage to a guest room
Leave the plasterboard suspended ceiling but rethink it
Kids' room refurbished according to children's request
In the first phase the site was visited and demands were established. During the planning phase I showed my client the 3D photo realistic views of all the possible versions of the colours, and the final results. Quickly finished with selecting wallpapers and tiles. At the end of the first shopping day we ordered all materials. Sure we had been searching catalogues before.
The construction started: demolishing- building, replacement of doors and openings, setting up engineering, plaster boarding, preparation of lights, and creation of sky with stars, flooring and wall covering…. Paining finished: cream colours, whites and silver-grey, wallpapers were placed on walls. So here we are now….
Meanwhile the furniture design finalised, manufacturing has started already, next the fittings, and the last final touches, then the moving in time.
By the time the owner returns from abroad the warmly inviting home is finished.
The plans were made in ARCHLine.XP CAD/BIM Design software.
Contacts:
Ms Eva Ferenczi - Studio Trend Lakberendezés
interior designer
web: www.studiotrend.hu
e-mail:
Mobile: +36 30 437 6455